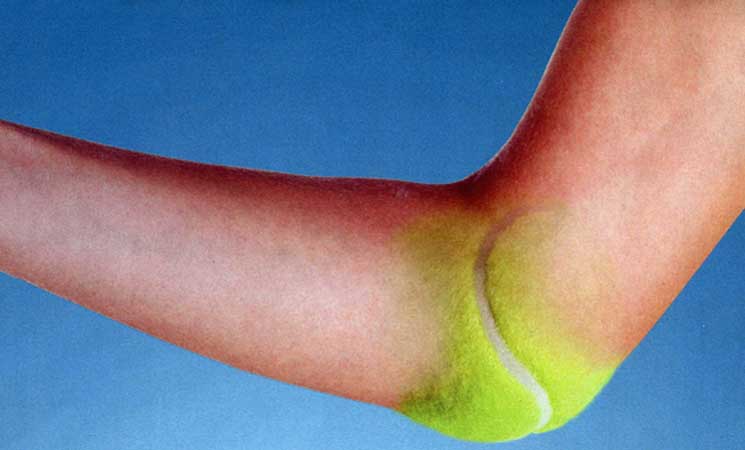 ---
Click here to return to TOP OF PAGE
HOME PAGE /
RACQUETS /
STRINGS /
GROMMETS /
ACCESSORIES

Everything you've always wanted to know about Tennis String, (*but were afraid to ask)

INFORMATION /
SECURE ONLINE ORDER FORM /
BALL & STRINGING MACHINES

GRIPS & OVERGRIP /
EYEWEAR /
CLOTHING & FOOTWEAR /
GIFTS /
BAGS

BADMINTON /
SQUASH /
TABLE OF CONTENTS /
F.A.Q's
---
When you are absolutely, positively ready for a Tennis Elbow Cure!
Call me @ (678) 787-1606 . I am not a Medical Doctor, and this does
not involve any medical treatments, drugs or any excersise regimens.
There's No Cost cost involved for discussing your Tennis Elbow issues.
Have your racquet with you & expect to be on phone 1/2 1 hour or more!
I have assisted countless TENNIS ELBOW sufferers finally get relief over the past 40 years.
To begin your journey towards a future without that dibilitating pain, just read this entire page.
Call me 8:00 AM 'til Midnight (Eastern) 7 days, to discuss your specific situation, at length.
Just to set the record straight, TENNIS ELBOW pain is a symptom of the tearing of the tissue
connecting muscle & bone, your tendon, (Tendonitis). The tearing isn't always caused by the act
of playing tennis alone, or at all, but the condition can certainly be worsened by tennis play. The
reason tennis is so problematic, is quite easy to understand. A tennis ball moving through the air
has both Mass & Velocity, thus it has Energy! In school, we all learned that Energy, can neither
be created or destroyed. It just changes form. There are two types of Energy: Potential & Kinetic.
Potential Energy is Stored Energy "a Battery". Kinetic Energy is the Energy or Motion or Work.
Another example; the Potential Energy the gasoline in your car's gas tank has, changes to Kinetic
Energy when mixed with the Oxygen in the air, and then burned in ypur engine to produce locomotion.
A tennis ball approaching you after being struck by your opponent has significant Kinetic Energy, as
does the racquet you are swinging, due to it's Mass and Velocity. When the two meet, all that Kinetic
Energy is combined & converted to Potential Energy, as the strings pocket the ball, the racquet flexes,
& the ball flattens out into varying pancake shapes for just a split second. This Stored Energy, called
an IMPULSE exists for just a split second & in a perfect world, we would wish that all of that Energy
would end up back in the ball, in the form of Kinetic Energy, sending it towards your opponent's side
of the court. It's doubtfull we'll ever reach so high an efficiency. Due to the nature of string systems
a large percentage of the energy moves through the strings (Propagation) to the racquet's structure,
where it again travels through the racquet's structure towards the grip, where it again moves through
through the material of the grip, to your hand & then up your arm towards your "unsuspecting" Elbow.

How do we stop that from happening? The real question should be "can we stop it from happening"?
Remember, we previously stated that Tennis Elbow is not always caused by playing tennis in the
first place, but once you have it, regardless of how you got it, all you really care about is "how do I
make the pain go away"? We can't stop all the energy traveling up your arm, but we certainly can
do much to reduce it. How? By starting at the beginning. Remember, our goal is energy reduction,
so every reduction we accomplish, leaves that much less to reduce in subsequent methods we utilize.

The beginning, as we put it, is the ball. Different types of balls create different IMPULSE intensities,
transfering varying amounts of energy upon impact with racquet strings. Without bringing a lawsuit
down upon ourselves, we will quote industry spec's showing that Wilson U.S. Open Balls generate 7%
more energy upon impact, than do Pro Penn's, while the Pro Penn's generate 8% more impact energy
than a special tennis ball, soon to no longer be available, called the Dunlop Abzorber A Player.
These were developed specifically to help reduce the incidence or severity of a Tennis Elbow and
they do make a difference. A reduction of either 15% or 8% of the shock generated by other balls.
The Dunlop A Player Abzorbers are endorsed by the American Institute of Orthopaedic & Sports Medicine.
They feel just like any other standard ball during play and are U.S.T.A. and IFT Approved and legal.
They are available in either ALL Court or HARD Court versions, with Extreme High Visibility Felt.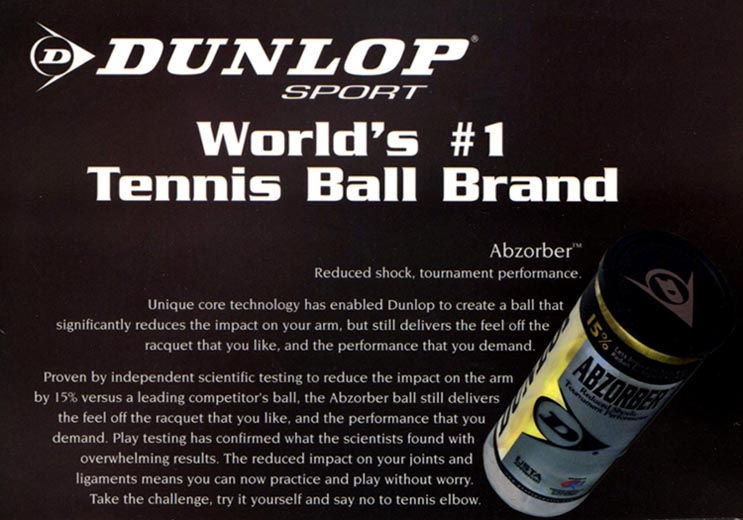 Another often ignored issue has to do with balls used for practice. Tennis Pro's often carry quantities
of balls with them in large teaching carts. You may have a large quantity of balls kept in a ball hopper,
which you use to practice serving or when hitting against a ball machine. The problem is that such balls
go dead over time, & it is a fact that human nature precludes us from wanting to throw things away,
that we may still be able to use. So we are faced with the issue of dead balls, which are even worse
for your arm than the worst of the live balls. The same issue comes up if using Pressureless balls.
Which are in some cases even worse than dead regular balls. The answer to this problem is a simple
one. Use Tretorn Micro-X balls for all practice, drilling & ball machines. These balls are exactly
the same as the balls you normally use to play, but they never go dead. They are filled with air,
that is encased in small micro balloons, rather than being loose inside the hollow ball. Due to the
micro balloons, the air can't escape so the balls never go dead. These balls are both USTA & ITF
approved & you'll not be able to feel any difference. True they cost significantly more than regular
balls, but in the long run they have the lowest cost of use of any ball available. I still suggest using
the Dunlop Abzorbers for play if possible, as they are significantly softer than the Tretorn Micro-X's,
but if you tend to use balls for extended periods of time, using the Tretorn Micro-X balls may be the
smartest choice, as they last until the fuzz is gone. See all our balls on the Accessories page.


Next stop along the chain as the damaging energy travels towards your elbow are your strings.
While all the string makers claim to have the panacea for tennis elbow, many fall short in the
real world. In simple terms,the more elastic a string, the more energy it can store & release
back into the ball, Period! Which strings are those? We are not playing favorites here, so we
will not name any one string, rather a number of strings that are all up to the task at hand.
Realize, that we are not taking any other factors such as cost, durability, or longevity into
account, just the ability to absorb more of the energy of the racquet / ball impact. Obviously,
those other factors must be taken into account, based upon your own individual needs. Do not
however, trust the claims made on string packages as to the softness of any particular string.
These are just attempts by the manufactures at trying to convince you of their strings being
better than others, with no data to back up the claims. The data below is from an independent lab.
Do not hesitate to call, so we can discuss what strings may be the best solution for your situation.

Natural Gut is at the top of the heap in regards to elasticity. It is also the best playing string
as far as performance goes. Not all gut strings are created equal however. Differences in gauge,
twist rate and the raw material, (the intestines of cows or sheep) cause gut strings to have minor
variances between brands as well as models.

If we are asked, we will be happy to provide recommendations for your specific situational needs. These are the facts, as per the independent lab, of the strings that offer the most elbow protection.
Preceded by their elasticity rating. The lower the #, the better their ability to protect your elbow.
The range of string elasticities is 99 (The softest string tested) to 981 (the stiffest string made).
The softest strings are Natural Guts, while #981 is Prince Pro Blend 16ga, a Kevlar/Nylon Hybrid.
Natural Gut sets will vary, so the small differences shown in these results are not writen in stone.
If you would like to know where your favorite string or any string for that matter falls on the scale,
we would be happy to provide the info, if available. Make such request via an e-mail.

The best string for you may not be the most elastic, if resistance to wear is part of the equation.
Players using heavy topspin can often wear out a set of strings in just a matter of hours or days.
While thinner gauge's of most strings play better, and are usually better for your arm, they tend
to break faster than thicker gauge strings of the same type. The thinner or more textured a given
type of string, the more spin it is capable of. Higher gauge #'s = thinner string. Be aware that
you can't jump to the conclusion that ANY thin string ia better for your arm than ANY thicker one,
as that is ignoring what the string is made of as well as how it is constructed, also an important
factor. What string is best for you, may also be depend upon any given strings ability to maintain
consistant tension over time. We do list each strings tension loss in pounds, to it's right, in the
brackets. This is not a % loss, but the number of LBS, after 1/2 hour play. Note the rate of tension
loss does slow down quite significantly after these initial losses. Obviously, the lower that #, the
better the strings ability to play consistantly over a period of time. For some players the loss isn't
an issue as they seem to prefer how their string play after the loss of a certain amount of tension.
While we can't put a number on durability, (how long a string lasts before it breaks), with our over
40 yrs experience with different string materials & constructions, we have a unique understanding
of how each type differs from the others, and feel confident in our ability to advise you on durability.

While the info below is important, our ability to take all of the characteristics of all our numerous strings
into consideration, coupled with the fact that we always discuss these issues with each customer prior
to making any final recomendations is what truly separates us from others that claim to be able to help.

It takes someone with a unique educational specialty, including Physics, Engineering & Material Science
to have a true understanding of how strings and racquets work, both along with and or against each other.



Call us at (678) 787-1606 (8:00am til' Midnight Eastern, 7 days), or e-mail us, "tenmen@mindspring.com"



083) Pacific Tough Gut 16L (7.52)
088) Pacific Tough Gut 16ga (6.75)
090) Pacific Prime Gut 16L (8.62)
090) Babolat VS Team 17ga [BT7] (7.74)
092) Pacific Classic Gut 16L (6.39)
092) Pacific Prime Gut 16L (6.86)
094) Pacific Tough Gut 17L (9.29)
094) Babolat VS Tonic+ Ball Feel 16ga [BT7] (8.80)
094) Babolat VS Tonic Ball Feel (8.80)
097) Pacific Prime Gut 16ga (5.75)
097) Pacific Tough Gut 17ga (9.22)
099) Head Natural Gut 16ga [Pacific] (8.73)
100) Pacific Classic Gut 17ga (7.78)
102) Wilson Natural Gut 16ga (8.43)
103) Pacific Prime Gut 16ga (8.05)
103) Wilson Natural Gut 17ga (8.13)
105) Pacific Prime Gut 17ga 8.45)
108) Babolat Tonic+ Longevity (10.29)
110) Babolat VS Touch Gut 16ga [BT7] (8.42)
THE STRINGS ABOVE ARE ALL NATURAL GUTS

THE STRINGS BELOW ARE ALL SYNTHETICS
Most are Nylon. The Other types are marked.
129) Prince Premier Touch 17ga [P-TEX/MULTI] (16.65)
132) Tennis Menace Exclusive "Solar Eclipse" 17ga [PEEK] (15.9)
134) Tennis Menace Exclusive "Lunar Eclipse" 16ga [PEEK] (17.8)
135) Tennis Menace Exclusive "Vollmer Boris Becker Super" 16g [NYLON/MULTI] (9.9)
136) Tennis Menace Exclusive "Head Rip Feel" 17ga [P-TEX/MULTI] (15.14)
137) Tecnifibre XR3 17ga [NYLON/MULTI] (11.2)
138) Iso-Speed Platinum 16L Cross [P-TEX/MULTI] (16.62)
140) Head Rip Comfort 16ga [P-TEX/MULTI] (15.77)
141) Ashaway Dynamite Soft 18ga [ZYEX/MULTI] (13.36)
142) Tecnifibre HDX Tour 17ga [NYLON /POLY/MULTI] (11.73)
143) Tennis Menace Exclusive "Head Rip Feel" 16ga [P-TEX/MULTI] (14.77)
144) Gamma Live Wire Professional 18ga [NYLON/MULTI] (15.15)
145) Gamma Zyex II 16ga [ZYEX/MULTI] (12.9)
145) Ashaway Dynamite Soft 17ga [ZYEX/MULTI] (13.17)
145) Prince Premier Touch 16ga [P-TEX/MULTI] (17.57)
146) Alpha Gut 2000 18ga [NYLON/MULTI] (14.67)
146) Gamma Glide 16ga [PTFE aka TEFLON] (16.18)
146) Prince Premier 16ga [ZYEX/MULTI] (13.25)
146) Bow Brand Zyex Super Pro 16ga [ZYEX/MULTI] (13.50)
147) Ashaway Dynamite 17ga [ZYEX/MULTI] (13.72)
148) Tecnifibre HDX Tour 16ga [NYLON /POLY/MULTI] (10.56)
150) Gamma Asterisk 17ga [NYLON/MULTI] (13.98)
151) Iso-Speed Professional II 17ga [P-TEX/MULTI] (15.35)
152) Tecnifibre XR3 16ga [NYLON/MULTI] (11.09)
152) Yonex Tour Super Solid 17ga [POLY/MONO] (18.75)
152) Iso-Speed Professional Classic 17ga [P-TEX/MULTI] (15.06)
152) Prince Premier Touch 15L [P-TEX/MULTI] (16.80)
153) Dunlop Pearl 17ga [NYLON/MULTI] (13.83)
154) Iso-Speed Control Classic 16ga [P-TEX/MULTI] (15.43)
156) Iso-Speed V-18 [POLY/MONO] (21.54)
157) Babolat M7 17ga (15.01)
157) Tecnifibre X-One Biphase 18ga [NYLON/MULTI] (11.47)
157) Volkl Classic Syn. Gut 17ga [NYLON/SOLID CORE] (16.21)
158) Gosen TecFlex 17ga (9.95)
158) Iso-Speed Control II 16ga [P-TEX/MULTI] (15.61)
158) Prince Premier Power 18ga NYLON/MULTI] (15.17)
159) Prince Premier Control 15L [NYLON/MULTI] (16.40)
159) Wilson Syn Gut Duramax 17ga [NYLON/SOLID CORE] (12.03)
161) Wilson Optimus 16ga (15.13)
162) Gosen TecFlex 16ga (13.45)
162) Prince Premier Power 17ga [NYLON/MULTI] (13.21)
163) Dunlop Pearl 16ga [NYLON/MULTI] (13.61)
163) Gamma Live Wire XP 18ga [ZYEX /NYLON/MULTI] (17.13)
163) Tennis Menace Exclusive "Head Rip Protect" 16ga [P-TEX/MULTI] (11.57)
163) Unique Tourna Quasi Gut Armor 17ga [NYLON/POLY /MULTI] (11.38)
163) Wilson K-Gut Pro 17ga [NYLON/MULTI] (15.21)
163) Yonex Tour Super Solid 16a [POLY/MONO] (16.28)
164) Babolat M7 16ga (14.71)
164) Babolat Xcel Power 17ga [NYLON/MULTI] (10.76)
164) Boris Becker Pulse 17ga (12.61)
164) Prince Premier Power 16ga [NYLON/MULTI] (13.27)
165) Asics Challenger 17ga [NYLON/POLY /SOLID CORE] (12.61)
165) Ashaway Dynamite WB 16ga [ZYEX//MULTI] (13.21)
165) Gosen TecGut Remplir 17ga (16.96)
165) Head FXP Tour 16ga [NYLON/POLY]]/MULTI] (14.93)
165) Iso-Speed Platinum 16ga Main [P-TEX/MULTI] (12.46)
165) Prince Premier Control 17ga [NYLON/MULTI] (12.70)
165) Prince Premier Control 15L [NYLON/MULTI] (14.51)
166) Unique Tourna Quasi Gut Armor 16ga [NYLON/POLY /MULTI] (12.37)
168) Ashaway Dynamite Tough 16ga [ZYEX/MULTI] (13.51)
168) Asics Resolution 17ga (9.59)
168) Dunlop Silk 17L [NYLON/MULTI] (15.11)
168) Gamma Live Wire Professional 17ga [NYLON/MULTI] (12.37)
168) Prince Premier Control 16ga [NYLON/MULTI] (14.00)
168) Volkl Classic Syn Gut 16ga [NYLON/SOLID CORE] (14.95)
169) Iso-Speed Hybrid Speed 1.2 (15.65)
169) Tecnifibre TGV 17ga [NYLON/MULTI] (14.69)
170) Asics Challenger 16ga [NYLON/POLY/SOLID CORE] (13.56)
170) Babolat SG Spiraltek 17ga (14.29)
170) Babolat SG Spiraltek 16ga (13.07)
170) Dunlop Silk 16ga [NYLON/MULTI] (16.12)
170) Head ETS 17ga [NYLON/MULTI] (14.00)
171) Gamma TNT2 Touch 17ga [NYLON/SOLID CORE] (16.63)
172) Gamma Asterisk Spin 16ga [NYLON/MULTI] (12.73)
173) Unique Tourna Big Hitter Silver 17ga [P-TEX/MONO] (23.74)
173) Wilson Syn Gut Duramax 16ga [NYLON/SOLID CORE] (11.73)
174) Gamma Live Wire Professional 16ga [NYLON/MULTI] (13.28)
174) Prince Premier LT 18ga [NYLON/MULTI] (17.37)
174) Wilson Revolve 17ga (19.16)
175) Tecnifibre TGV 16ga [NYLON/MULTI] (14.60)
175) Tecnifibre XR1 17ga [NYLON/MULTI] (11.60)
175) Gamma Prodigy 17ga (11.16)
175) Prince DNA Helix Soft Pro 16ga [NYLON/MULTI] (11.90)
175) Prince Premier w/ Softlex 17ga [NYLON/MULTI] (11.97)
175) Wilson Reaction 17ga (12.00)
175) Iso-Speed Energetic 16ga [P-TEX/MULTI] (18.76)
176) Head Syngut PPS 18ga [NYLON/SOLID CORE] (11.93)
176) Prince Premier w/ Softlex 16ga [NYLON/MULTI] (11.97)
177) Head Rip Tour 17ga [P-TEX/MULTI] (10.87)
177) Tecnifibre XR3 17ga [NYLON/MULTI] (10.60)
178) Head Rip Control 17ga [P-TEX/MULTI] (10.25)
178) Tennis Menace Exclusive "Head Rip Power" 16L [P-TEX/MULTI] (10.91)
178) Gamma Live Wire Professional Spin 16ga [NYLON/MULTI] (11.47)
178) Gamma Asterisk Tour 16ga (19.95)
178) Prince Syngut Multifilament 17ga [NYLON/MULTI])
179) Gamma Asterisk 16ga [NYLON/MULTI] (12.15)
179) Unique Tourna Syn. Gut Armor 17ga [NYLON/SOLID CORE (13.63)
179) Unique Tourna Big Hitter Black 17ga [P-TEX/MONO] (21.79)
179) Wilson Revolve 16ga (19.18)
180) Gamma Asterisk Tour 17ga (12.53)
180) Gamma FTX 17ga [NYLON/SOLID CORE] (10.85)
180) Tennis Menace Exclusive "Head Perfect Power" 16ga [P-TEX/MULTI] (11.84)
180) Head FiberGel Power 17ga [P-TEX/MULTI] (12.28)
180) Iso-Speed Energetic+ 16ga [P-TEX/MULTI] (10.41)
180) Wilson Shock Shield 16ga (13.34)
180) Wilson Hollow Core Pro 17ga (16.95)
180) Prince Recoil 16ga [PTFE aka TEFLON] (16.25)
180) Prince Premier LT 17ga NYLON/MULTI] (16.96)
180) Volkl V-Star 17ga [POLY/MONO] (22.47)
181) Head Rip Tour 16ga [P-TEX/MULTI] (11.51)
181) Gamma Prodigy 16ga (11.67)
181) Head FXP Power 17ga (13.37)
181) Tecnifiber NRG2 18ga [NYLON/MULTI] (9.86)
181) Wilson Reaction 16ga (11.00)
181) Yonex Poly Tour Pro 18ga [POLY/MONO] (21.08)
182) Head ETS 16 [NYLON/MULTI] (13.16)
182) Head Gravity 18ga [Cross] (17.99)
182) Babolat Xcel Premium 17ga [NYLON/MULTI] (10.01)
182) Wilson K-Gut Pro 16ga [NYLON/MULTI] (10.62)
182) Gamma ESP 17ga (12.68)
182) Tecnifibre 515 GOLD "Pre-Stretched" 17ga [NYLON/MULTI] (7.05)
183) Tecnifibre XR3 16ga [NYLON/MULTI] (9.92)
183) Babolat Xcel Power 16ga [NYLON/MULTI] (9.64)
183) Wilson K-Gut 17ga [NYLON/MULTI] (11.59)
183) Alpha Gut 2000 17ga [NYLON/MULTI] (11.46)
183) Velociti Syn. Gut 17ga [NYLON/SOLID CORE] (13.21)
184) Head Rip Control 16ga [P-TEX/MULTI] (11.02)
184) Head Lynx 18ga [POLY/MONO] (20.93)
184) Unique Tourna Syn. Gut Armor 16ga [NYLON/SOLID CORE (11.44)
185) Luxilon Alu Power Soft 125 16L [POLY/MONO] (18.79)
185) Tecnifibre XR1 16ga [NYLON/MULTI] (12.09)
185) Head Perfect Control 16ga (10.7)
186) Babolat Attraction Power 17ga [NYLON/MULTI] (9.84)
186) Babolat Syntronic Brio 17ga [NYLON/MULTI] (10.41)
186) Gamma ESP 16ga (12.64)
186) Gamma Revelation 17ga (13.08)
186) Volkl Power Fiber II 17ga [NYLON/MULTI] (12.20)
186) Volkl Cyclone Tour 18ga [POLY/MONO] (22.18)
186) Wilson Syn. Gut Power 16ga [NYLON/SOLID CORE] (13.03)
187) Alpha Gut 2000 16ga [NYLON/MULTI] (11.23)
187) Babolat Pro Hurricane 18ga [POLY/MULTI] (22.29)
187) Babolat Xcel Premium 16ga [NYLON/MULTI] (10.12)
187) Gamma Gut II 16ga [NYLON/SOLID CORE] (12.0)
187) Iso-Speed Energetic 17ga [P-TEX/MULTI] (14.64)
187) Prince Premier LT 16ga [NYLON/MULTI] (16.72)
188) Babolat Origin 17ga [NYLON/SOLID CORE] (14.00)
188) Yonex Tour Super 880 Ti Soft 16L [NYLON/MULTI] (9.77)
188) Prince Lightning Power w/Powerfoil 17ga /MULTI] 10.96)
188) Gamma Live Wire 17ga [NYLON/MULTI (13.74)
188) Volkl V-Star 16ga [POLY/MONO] (21.36)
189) Babolat Attraction 16ga [NYLON/MULTI] (10.03)
189) Head FibreGel Power 16ga [P-TEX/MULTI] (11.62)
189) Prince Tour XT 18ga [POLY/MONO] (21.39)
189) Tecnifibre Multifeel 16ga [NYLON/MULTI] (9.81)
189) Volkl Power Fiber II 18ga [NYLON/MULTI] (10.39)
189) Wilson Hollow Core Pro 16ga (15.63)
189) Dunlop Black Widow 18ga [POLY/MONO] (22.77)
189) Head Hawk Touch 17ga [POLY/MONO] (15.59)
190) Ashaway Syngut 17ga [NYLON/SOLID CORE] (14.93)
190) Babolat Addiction 17ga [NYLON/MULTI] (12.06)
190) Dunlop Black Widow 17ga [POLY/MONO] (25.25)
190) Gamma Live Wire XP 16ga [ZYEX/NYLON/MULTI] (12.04)
190) Gamma Live Wire 16ga [NYLON/MULTI] (12.87)
190) Gamma TNT2 Touch 16ga [NYLON/MULTI] (14.86)
190) Head Syngut PPS 17ga [NYLON/SOLID CORE (11.38)
190) Kirschbaum Touch Multifibre 17ga [NYLON/MULTI] (11.20)
190) Tecnifiber NRG2 17ga [NYLON/MULTI] (9.55)
190) Yonex Tour Super 850 16ga (Gosen) /MULTI] (10.89)
190) Unique Tournafiber Irradiated 17ga [NYLON/MULTI] (11.62)
191) Gamma TNT2 RX 17ga [NYLON/SOLID CORE] (10.96)
191) Gamma Live Wire XP 17ga ZYEX/NYLON/MULTI (12.35)
191) Gamma TNT Fat Core 17ga [NYLON/SOLID CORE] (13.96)
191) Gamma FTX 16ga NYLON/SOLID CORE (10.30)
191) Head Fibergel Spin 16ga (12.08)
191) Wilson K-Gut 16ga [NYLON/MULTI] (11.98)
191) Head Lynx 17ga [POLY/MONO] (20.68)
192) Alpha Ultra Spin 15L [NYLON/MULTI] (16.69)
192) Dunlop Black Widow 16ga [POLY/MONO] (25.03)
192) Gamma TNT2 Pro+ 17L[NYLON/SOLID CORE] (12.74)
192) Kirschbaum Touch Multifibre 16ga [NYLON/SOLID CORE] (14.07)
192) Prince Lightning Power w/ Powerfoil 16ga [NYLON/MULTI] (10.94)
192) Tecnifiber X-One Biphase 17ga [NYLON/MULTI] (10.12)
192) Tecnifiber X-One Biphase 16ga [NYLON/MULTI] (10.08)
192) Wilson Revolve 15L (20.97)
193) Head Gravity 17ga [Mains] (15.31)
193) Tecnifibre Multifeel 17ga [NYLON/SOLID CORE (9.92)
193) Technifibre TRC 17ga [NYLON/MULTI] (11.2)
193) Volkl Cyclone Tour 17ga [POLY/MONO) (22.83)
193) Wilson NXT 17ga [NYLON/MULTI (12.99)
193) Wilson Reflection 16ga (12.70)
194) Ashaway Liberty 16ga [NYLON/SOLID CORE (12.9)
194) Babolat FiberTour 16ga [NYLON/MULTI] (10.45)
194) Forten Sweet 17ga [NYLON/SOLID CORE] (12.62)
194) Gamma TNT Fat Core 16ga [NYLON/SOLID CORE] (12.77)
194) Head FXP 17ga (10.59)
194) Prince Lightning XX w/ Powerfoil 17ga [NYLON/SOLID CORE](11.40)
194) Prince Lightning XX w/Powerfoil 16ga [NYLON/SOLID CORE] (10.76)
194) Tecnifibre Synthetic Gut 17ga [NYLON/SOLID CORE] (13.96)
194) Volkl Power Fiber 16ga [NYLON/MULTI] (11.20)
194) Wilson Superspin 16ga (14.20)
195) Alpha Gut 2000 15L [NYLON/MULTI] (11.11)
196) Yonex Tour Super 850 Pro 16ga [NYLON/MULTI] (11.13)
196) Gamma TNT2 Pro+ 16ga [NYLON/SOLID CORE] (11.16)
196) Head Syngut PPS 16ga [NYLON/SOLID CORE] (11.69)
196) Prince Perfection 17ga [NYLON/MULTI] (12.42)
196) Prince Premier Attack 17ga (13.89)
196) Prince Syn. Gut Multifilament 16ga [NYLON/SOLID CORE] (13.98)
196) Volkl V Torque 18ga [POLY/MONO] (16.03)
197) Babolat Syntronic Brio 16ga [NYLON/MONO] (10.52)
197) Forten Spin Gear 17L/15L (Variable Gauge) [NYLON/SOLID CORE] (11.22)
197) Gamma Revelation 16ga (11.88)
197) Kirschbaum Touch Multifibre 15L [NYLON/MULTI] (13.87)
197) Tecnifibre NRG2 16ga [NYLON/SUPER] (8.05)
197) Tecnifibre Black Code 15L [POLY/MONO] (17.57)
197) Volkl V Torque 17ga [POLY/MONO] (23.46)
197) Wilson Sensation 17ga [NYLON/MULTI] (11.91)
197) Wilson Sensation Control 16ga [NYLON/MULTI] (12.77)
198) Ashaway Synthetic Gut 16ga [NYLON/SOLID CORE] (12.12)
198) Babolat Addiction 16ga [NYLON/MULTI] (11.79)
198) Blue Star Original 15L [for Reference Only] (13.92)
198) Gamma TNT2 Tour 17ga [NYLON/SOLID CORE] (15.81)
198) Head FibreGel 16ga (11.97)
198) Prince Tour XP 15L [POLY/MONO] (18.46)
198) Velocity Syn Gut 16ga [NYLON/SOLID CORE] (12.88)
198) Wilson NXT 16ga [NYLON/MULTI] (10.69)
198) Head Lynx 16ga [POLY/MONO] (21.06)
199) Dunlop Max Comfort 17ga (11.78)
199) Gosen OG Sheep Micro 17ga (12.35)
199) Head Sonic Pro 17ga [POLYMONO] (23.09)
199) Wilson NXT OS 16L [NYLON/MULTI] (10.43)
200) Dunlop Max Comfort 16ga (11.07)
200) Gosen AK Power 16ga (11.29)
200) Prince Tour XS 17ga [POLY/MONO] (18.90)
200) Volkl Cyclone Tour 16ga [POLY/MONO] (23.26)
201) Head FXP Power 16ga (14.27)
202) RAB/Alpha - Sensor Fibre 16ga [NYLON/MULTI] (11.02)
202) Gamma Gut III 17ga [NYLON/SOLID CORE] (10.09)
202) Tecnifibre DuraMix HD 17ga [NYLON/POLY]/MULTI] (15.37)
202) Unique Tourna Big Hitter Black Zone 17ga [P-TEX/MONO] (16.50)
202) Wilson Syn. Gut Power 15L [NYLON/SOLID CORE] (14.51)
203) Alpha Syn. Gut MXT 16ga [NYLON/SOLID CORE] (17.05)
203) Dunlop Syn. Gut 17ga [NYLON/SOLID CORE] (16.17)
203) Gamma TNT2 Rx 16ga [NYLON/SOLID CORE] (9.81)
203) Gamma Syn. Gut WG 17ga [NYLON/SOLID CORE] (9.15)
203) Gamma Syn. Gut WG 18ga [NYLON/SOLID CORE] (9.68)
203) Gosen OG Sheep Micro 16ga [NYLON/SOLID CORE] (12.96)
203) Prince Syn. Gut DF 18ga [NYLON/SOLID CORE] (11.51)
203) TOA Leoina 66 15L [NYLON/SOLID CORE] (14.18)
203) Wilson NXT Tour/Power 17ga [NYLON/MULTI] (12.46)
204) Forten Sweet 15L [NYLON/SOLID CORE] (11.55)
204) Gamma RZR Rx 17ga (17.11)
204) Gamma Syn. Gut w/ Wearguard 16ga [NYLON/SOLID CORE] (10.03)
204) Unique Tournafiber Irradiated 16ga [NYLON/MULTI] (11.44)
204) Volkl V Torque 17ga [POLY/MONO] (22.03)
205) Head Sonic Pro Edge 16ga [POLY/MONO] (19.53)
205) Prince Premier Attack 16ga (14.26)
205) Tecnifibre DuraMix HD 16ga [NYLON/POLY]]/MULTI] (14.99)
205) Wilson Extreme Syn Gut [Control] 16ga [NYLON/SOLID CORE] (10.30)
206) Alpha Viper MXT 17ga [NYLON/SOLID CORE] (12.97)
206) Babolat Origin 16ga [NYLON/SOLID CORE] (12.57)
206) Head Sonic Pro Edge 16ga [POLY/MONO] (19.53)
206) Wilson NXT Control 16ga [NYLON/MULTI] (15.81)
207) Prince Tour XS 15L [POLY/MONO] (18.81)
207) Prince Lighting XX 17ga [NYLON/SOLID CORE] (9.68)
208) Volkl Cyclone 18ga [POLY/MONO] (15.94)
208) Wilson NXT Max 15L [NYLON/MULTI] (9.88)
209) Wilson NXT Tour/Power 18ga [NYLON/MULTI] (9.53)
209) Gamma TNT2 17ga [NYLON/SOLID CORE] (9.85)
209) Gamma TNT2 Tour 16ga (14.49)
209) Gamma Syn Gut 17ga [NYLON/SOLID CORE] (11.51)
209) Gamma Poly-Z 17ga [POLY/MONO] (22.91)
209) Gosen AK Pro 17ga (11.97)
209) Head FXP 16ga (10.83)
209) Luxilon Alu Power Feel 18ga [POLY/MONO] (18.35)
209) Prince Topspin+ 16ga [NYLON/SOLID CORE] (10.06)
209) Prince Topspin DF 15L [NYLON/SOLID CORE] (11.92)
209) Wilson Sensation 16ga [NYLON/MULTI] (11.55)
210) Gamma TNT2 16ga NYLON/SOLID CORE] (10.34)
210) Gamma IO 18ga [POLY/MONO] (16.78)
210) Prince Tour XP 17ga [POLY/MONO] (19.25)
210) Wilson Extreme Syn Gut [Control] 17ga [NYLON/SOLID CORE] (10.39)
211) Wilson NXT Dura/Max 16ga NYLON/MULTI] (9.71)
211) Gamma Marathon DPC 16ga [NYLON/SOLID CORE] (11.51)
212) Alpha Viper MXT 16ga [NYLON/SOLID CORE] (12.35)
212) Forten Sweet 16ga [NYLON/SOLID CORE] (10.78)
212) Gosen AK Pro 16ga (11.64)
212) Prince Syn Gut DF 17ga [NYLON/SOLID CORE] (10.69)
213) Prince Syn Gut DF 16ga [NYLON/SOLID CORE] (12.04)
214) Gamma TNT2 18ga[NYLON/SOLID CORE] (11.05)
214) Head Sonic Pro 16ga [POLY/MONO] (22.18)
214) Luxilon 4G Soft 125 [POLY/MULTI] (13.85)
214) Prince Syn Gut Original 17ga [NYLON/SOLID CORE] (10.59)
215) Gamma Ruff 16ga [NYLON/SOLID CORE] (11.33)
215) Unique Tourna Big Hitter Black Zone 16ga [P-TEX/MONO] (16.92)
216) Prince Tour XP 16ga [POLY/MONO] (16.21)
217) Gamma Dura Spin w/ Wearguard 16ga [NYLON/SOLID CORE] (8.95)
217) Head Hawk 17ga [POLY/MONO] (17.61)
217) Prince Synthetic Gut Original 16ga [NYLON/SOLID CORE] (11.67)
217) Toa Silencer 17ga [NYLON/SOLID CORE] (13.96)
217) Tecnifibre X-Code 17ga [POLY/MULTI] (17.66)
218) Gamma Synthetic Gut 16ga [NYLON/SOLID CORE] (9.86)
218) Gamma TNT2 15L [NYLON/SOLID CORE] (10.69)
218) Kirschbaum SuperSmash 1.23 [POLY/MONO] (16.76)
219) Dunlop Synthetic Gut 17ga [NYLON/SOLID CORE] (10.04)
219) Gamma XL 16ga [NYLON/SOLID CORE] (11.4)
219) Gamma Marathon DPC 15L [NYLON/SOLID CORE] (10.80)
219) Iso-Speed Pyramid 16ga [TRIANGULAR POLY/MONO] (24.19)
219) Wilson NXT Tour/Power 16ga [NYLON/MULTI] (8.98)
220) Dunlop Ice 17ga [POLY/MONO] (18.28)
220) Dunlop Ice 16ga [POLY/MONO] (22.44)
220) Gamma RZR Rx 16ga (15.92)
220) Head Hawk 18ga [POLY/MONO] (16.78)
220) Tecnifibre Black Code 18ga [POLY/MONO] (18.88)
221) Gamma Synthetic Gut 18ga [NYLON/SOLID CORE] (10.14)
222) Kirschbaum Black Shark 1.25 [POLY/MONO] (19.49)
222) Tecnifibre Red Code 18ga [POLY/MONO] (18.89)
222) Toa Gold 17ga [NYLON/SOLID CORE] (12.92)
222) Toa Silencer 16ga [NYLON/SOLID CORE] (14.04)
223) Gamma Dura Spin 16ga [NYLON/SOLID CORE] (8.93)
224) Babolat Synthetic Gut 16ga [NYLON/SOLID CORE] (13.32)
224) Babolat RPM Team 17ga [POLY/MONO] (16.54)
224) Gamma Synthetic Gut 15L [NYLON/SOLID CORE] (11.42)
224) Gamma Poly-Z 16ga [POLY/MONO] (23.54)
224) Head Hawk 16ga [POLY/MONO] (18.46)
225) Kirschbaum Pro Line 1.25 [POLY/MONO] (15.61)
225) Tecnifibre Black Code 17ga [POLY/MONO] (18.03)
226) Babolat Pro Hurricane 17ga [POLY/MONO] (16.83)
226) Luxilon Alu Power Fluoro 1.23 [POLY/MONO] (17.64)
226) Prince Tour XC 15L [POLY/MONO] (22.36)
227) Luxilon 4G Rough 1.25 [POLY/MONO] (17.57)
227) Toa Gold 16ga NYLON/SOLID CORE] (13.16)
228) Gamma Marathon DPC 17ga NYLON/SOLID CORE] (9.42)
228) Gamma iO 17ga [POLY/MONO] (15.41)
228) Tecnifibre X-Code 16ga [POLYESTER/MULTI] (18.85)
230) Wilson Ripspin 17ga [POLY/MONO] (18.39)
231) Gamma Moto 17ga [POLY/MONO] (15.35)
232) Luxilon Ace 1.12 [POLY/MONO] (17.05)
232) Prince Tour XC 17L [POLY/MONO] (18.85)
232) Wilson Shock Shield Mono 17ga [POLY/MONO] (20.66)
232) Wilson Ripspin 15L [POLY/MONO] (21.69)
233) Kirschbaum Black Shark 1.30 [POLY/MONO] (20.22)
235) Kirschbaum Super Smash 1.20 [POLY/MONO] (19.98)
235) Luxilon Alu Power Spin 1.27 [POLY/MONO] (19.25)
235) Tecnifibre Red Code 17ga [POLY/MONO] (16.27)
235) Wilson Ripspin 16ga [POLY/MONO] (20.18)
235) Yonex Poly Tour HS 16ga [POLY/MONO](?)
236) Kirschbaum Pro Line 16ga [POLY/MONO] (16.92)
236) Prince Tournament Poly 16ga [POLY/MONO] (24.17)
236) Yonex Poly Tour Spin 16L (15.79)
237) Kirschbaum Super Smash 1.28 [POLY/MONO] (17.86)
238) Prince Tour XC 16L [POLY/MONO] (19.09)
239) Tecnifibre ATP Razor Code 18ga [POLY/MONO] (16.14)
239) Wilson Enduro Pro 17ga [POLY/MONO] (15.57)
240) Gamma Moto 16ga [POLY/MONO] (13.83)
240) Luxilon Alu Power Rough 1.25 [POLY/MONO] (18.98)
240) Luxilon M2 Pro 1.25 [POLYESTER/MULTI] (21.7)
241) Babolat Pro Hurricane 16ga [POLY/MONO] (13.61)
241) Luxilon Timo 1.10 [POLY/MONO] (16.91)
241) Prince Tournament Poly 17ga [POLY/MONO] (24.23)
242) Gamma iO 16ga [POLY/MONO] (15.51)
242) Gamma Zo Dart 16ga [POLY/MONO] (15.10)
242) Luxilon Alu Power 1.25 [POLY/MONO] (17.13)
242) Tecnifibre Black Code 16ga [POLY/MONO] (18.08)
243) Tecnifibre Poly Code 17ga [POLY/MONO] (16.03)
243) Kirschbaum Super Smash 1.225 [POLY/MONO] (19.74)
245) Babolat RPM Dual 17ga [POLY/MONO] (14.37)
245) Babolat RPM Dual 16ga [POLY/MONO] (16.03)
247) Luxilon Alu Power 1.38 [POLY/MONO] (19.94)
247) Tecnifibre Poly Code 16ga [POLY/MONO] (19.38)
249) Luxilon 4G 125 [POLY/MONO] (13.30)
249) Luxilon Big Banger 1.30 [POLY/MONO] (17.11)
249) Prince Tour 17ga [POLY/MONO] (21.37)
250) Gamma Zo Dart 17ga [POLY/MONO] (15.06)
252) Kirschbaum Super Smash 1.325 [POLY/MONO] (20.75)
252) Tecnifibre ATP Razor Code 17ga [POLY/MONO] (16.43)
253) Prince Poly Spin 3D 16ga [POLY/MONO] (23.39)
254) Luxilon Adrenaline Rough 1.25 [POLY/MONO] (19.83)
255) Head UltraTour 17ga [POLY/MONO] (19.29)
256) Babolat Pro Hurricane Tour 17ga [POLY/MONO] (17.58)
256) Gamma Zo Verve 16ga [POLY/MONO] (14.53)
256) Kirschbaum SuperSmash Spiky 1.20 [POLY/MONO] (19.97)
256) Luxilon M2 Plus 1.30 [POLYESTER/MULTI] (19.93)
256) Prince Tour 16ga [POLY/MONO] (21.57)
256) Kirschbaum Super Smash Spiky 1.25 [POLY/MONO] (22.02)
257) Kirschbaum Super Smash Spiky 1.225 [POLY/MONO] (14.58)
257) Kirschbaum Super Smash 1.275 [POLY/MONO] (19.53)