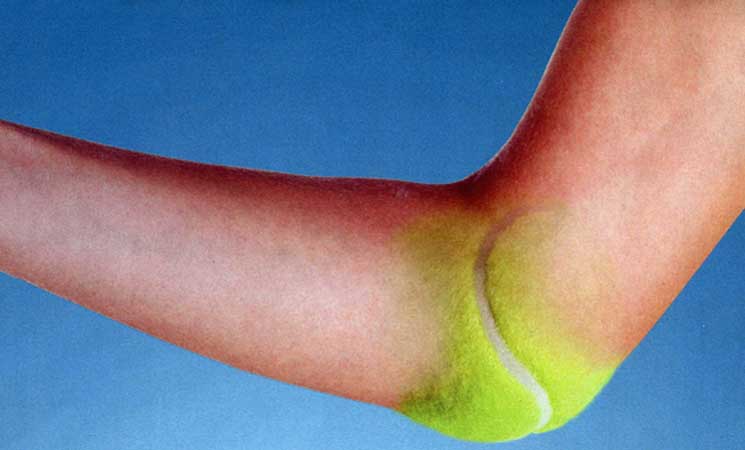 ---
Click here to return to TOP OF PAGE
HOME PAGE /
RACQUETS /
STRINGS /
GROMMETS /
ACCESSORIES

INFORMATION /
SECURE ONLINE ORDER FORM /
BALL & STRINGING MACHINES

GRIPS & OVERGRIP /
EYEWEAR /
CLOTHING & FOOTWEAR /
GIFTS /
BAGS

BADMINTON /
SQUASH /
TABLE OF CONTENTS /
F.A.Q's
---
When you are absolutely, positively ready for a Tennis Elbow Cure!
Call us @ (678) 787-1606 . Expect to be on the phone about 1 hour!
I have assisted countless TENNIS ELBOW sufferers finally get relief over the past 39 years.
To begin your journey towards a future without that dibilitating pain, just read this entire page.
Call me 8:00 AM 'til Midnight (Eastern) 7 days, to discuss your specific situation, at length.
Just to set the record straight, TENNIS ELBOW pain is a symptom of the tearing of the tissue
connecting muscle & bone, your tendon, (Tendonitis). The tearing isn't always caused by the act
of playing tennis alone, or at all, but the condition can certainly be worsened by tennis play. The
reason tennis is so problematic, is quite easy to understand. A tennis ball moving through the air
has both Mass & Velocity, thus it has Energy! In school, we all learned that Energy, can neither
be created or destroyed. It just changes form. There are two types of Energy: Potential & Kinetic.
Potential Energy is Stored Energy "a Battery". Kinetic Energy is the Energy or Motion or Work.
Another example; the Potential Energy the gasoline in your car's gas tank has, changes to Kinetic
Energy when mixed with the Oxygen in the air, and burned to produce locomotion, or Kinetic Energy.
A tennis ball approaching you after being struck by your opponent has significant Kinetic Energy, as
does the racquet you are swinging, due to it's Mass and Velocity. When the two meet, all that Kinetic
Energy is combined & converted to Potential Energy, as the strings pocket the ball, the racquet flexes,
& the ball flattens out into varying pancake shapes for just a split second. This Stored Energy, called
an IMPULSE exists for just a split second & in a perfect world, we would wish that all of that Energy
would end up back in the ball, in the form of Kinetic Energy, sending it towards your opponent's side
of the court. It's doubtfull we'll ever reach so high an efficiency. Due to the nature of string systems
a large percentage of the energy moves through the strings (Propagation) to the racquet's structure,
where it again propagates through the racquet's structure towards the grip, where it then propagates
through the material of the grip, to your hand & then up your arm towards your "unsuspecting" Elbow.

How do we stop that from happening? The real question should be "can we stop it from happening"?
Remember, we previously stated that Tennis Elbow is not always caused by playing tennis in the
first place, but once you have it, regardless of how you got it, all you really care about is "how do I
make the pain go away"? We can't stop all the energy traveling up your arm, but we certainly can
do much to reduce it. How? By starting at the beginning. Remember, our goal is energy reduction,
so every reduction we accomplish, leaves that much less to reduce in subsequent methods we utilize.

The beginning, as we put it, is the ball. Different types of balls create different IMPULSE intensities,
transfering varying amounts of energy upon impact with racquet strings. Without bringing a lawsuit
down upon ourselves, we will quote industry spec's showing that Wilson U.S. Open Balls generate 7%
more energy upon impact, than do Pro Penn's, while the Pro Penn's generate 8% more impact energy
then Dunlop Abzorbers. These were developed specifically to help reduce the incidence or severity of
Tennis Elbow and they do make a big difference. That's a reduction of either 15% or 8% of the shock.
The Dunlop Abzorber Ball is endorsed by the American Institute of Orthopaedic and Sports Medicine.
They feel just like any other standard ball during play and are U.S.T.A. and IFT Approved and legal.
To our knowledge, we are the only source for the Dunlop Abzorber tennis balls anywhere in the world.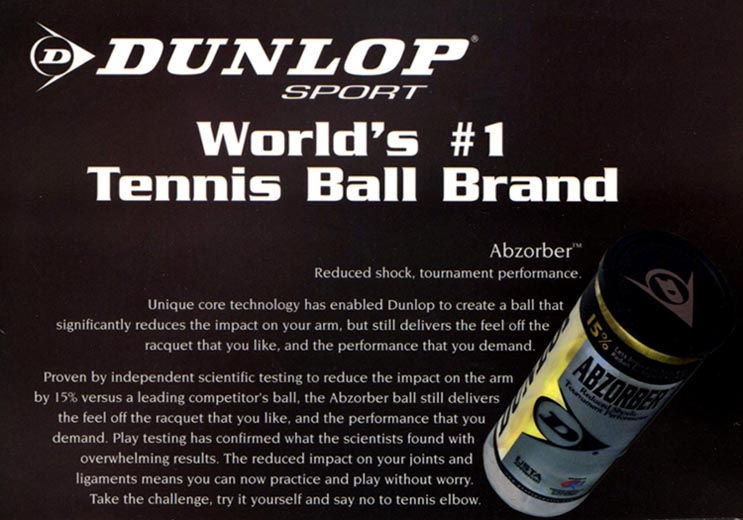 Another often ignored issue has to do with balls used for practice. Tennis Pro's often carry quantities
of balls with them in large teaching carts. You may have a large quantity of balls kept in a ball hopper,
which you use to practice serving or when hitting against a ball machine. The problem is that such balls
go dead over time, & it is a fact that human nature precludes us from wanting to throw things away,
that we may still be able to use. So we are faced with the issue of dead balls, which are even worse
for your arm than the worst of the live balls. The same issue comes up if using Pressureless balls.
Which are in some cases even worse than dead regular balls. The answer to this problem is a simple
one. Use Tretorn Micro-X balls for all practice, drilling & ball machines. These balls are exactly
the same as the balls you normally use to play, but they never go dead. They are filled with air,
that is encased in small micro balloons, rather than being loose inside the hollow ball. Due to the
micro balloons, the air can't escape so the balls never go dead. These balls are both USTA & ITF
approved & you'll not be able to feel any difference. True they cost significantly more than regular
balls, but in the long run they have the lowest cost of use of any ball available. I still suggest using
the Dunlop Abzorbers for play if possible, as they are slighlty softer than the Tretorn Micro-X's,
but if you tend to use balls long after they are fresh, even using the Tretorn Micro-X balls may
ultimately be a choice, as they last until the fuzz is gone. See all our balls on the Accessories page.


Next stop along the chain as the damaging energy travels towards your elbow are your strings.
While all the string makers claim to have the panacea for tennis elbow, many fall short in the
real world. In simple terms,the more elastic a string, the more energy it can store & release
back into the ball, Period! Which strings are those? We are not playing favorites here, so we
will not name any one string, rather a number of strings that are all up to the task at hand.
Realize, that we are not taking any other factors such as cost, durability, or longevity into
account, just the ability to absorb more of the energy of the racquet / ball impact. Obviously,
those other factors must be taken into account, based upon your own individual needs. Do not
however, trust the claims made on string packages as to the softness of any particular string.
These are just attempts by the manufactures at trying to convince you of their strings being
better than others, with no data to back up the claims. The data below is from an independent lab.
Do not hesitate to call, so we can discuss what strings may be the best solution for your situation.

Natural Gut is at the top of the heap in regards to elasticity. It is also the best playing string
as far as performance goes. Not all gut strings are created equal however. Differences in gauge,
twist rate and the raw material, (the intestines of cows or sheep) cause gut strings to have minor
variances between brands as well as models.

If we are asked, we will be happy to provide recommendations for your specific situational needs. These are the facts, as per the independent lab, of the strings that offer the most elbow protection.
Preceded by their elasticity rating. The lower the #, the better their ability to protect your elbow.
The range of string elasticities is 99 (The softest string tested) to 981 (the stiffest string made).
The softest strings are the Natural Guts, while #981 is Prince Pro Blend 16ga, a Kevlar/Nylon Hybrid.
Natural Gut sets will vary, so the small differences shown in these results are not writen in stone.
If you would like to know where your favorite string or any string for that matter falls on the scale,
we would be happy to provide the info, if available. Make such request via an e-mail.

The best string for you may not be the most elastic, if resistance to wear is part of the equation.
Players using heavy topspin can often wear out a set of strings in just a matter of hours or days.
While thinner gauge's of most strings play better, they normally break faster than thicker gauge's.
The thinner or more textured a string, the more spin it is capable of. Higher gauge #'s = thinner string.
The best string for you may also change, if the ability maintain consistant tension over time is an issue.
There are many strings not included below, that will do the job. We only created this list as a guide.

We can't rate durability due to player differences. We do list each strings tension loss in pounds, to the
right, in brackets. This is not a % loss, but the number of LBS, after about 1/2 an hour play. Realize that
the rate of this tension loss does slow down after these initial losses. Obviously, the lower that #,
the better the strings ability to play consistantly over a period of time. For a more detailed, personal
recommendation on what sting may be best for your situation, contact us by phone or e-mail.

#99) Head Natural Gut [Pacific] 16ga (8.73)
102) Wilson Nat Gut 16ga (8.43)
102) Babolat VS Team Gut 17ga (8.45)
103) Wilson Nat Gut 17ga (8.13)
106) Babolat VS Touch Gut 16ga Black (7.93)
107) Babolat VS Touch Gut 16ga (8.31
118) Babolat VS Touch 15L (8.68)
119) Babolat Tonic+ Longevity Gut 15ga (9.26)
THE STRINGS ABOVE ARE ALL NATURAL GUTS

THE STRINGS BELOW ARE ALL SYNTHETICS
Most are Nylon. Other types are marked.
Examples: Polyester, Zyex, Vectran, Kevlar
135) Vollmer Boris Becker Super String 16ga (9.9)
136) Head Rip Feel 17ga (15.14)
138) Iso-Speed Platinum 16L (16.62)
140) Head Rip Comfort 16ga (15.77)
141) Ashway Dynamite Soft 18ga (13.26)
143) Head Rip Feel 16ga (14.77)
144) Gamma Live Wire Professional 18ga (15.15)
145) Gamma Zyex II 16ga [ZYEX] (12.9)
145) Ashway Dynamite Soft 17ga (13.17)
146) Prince Premier 16ga [ZYEX] (13.25)
146) Bow Brand Zyex Super Pro 16ga [ZYEX] (13.50)
146) Alpha Gut 2000 18ga (14.67)
147) Ashaway Dynamite 17ga [ZYEX] (13.72)
150) Gamma Asterisk 17ga (13.98)
151) Iso-Speed Professional II 17ga (15.35)
152) Iso-Speed Professional Classic 17ga (15.06)
154) Iso-Speed Control Classic 16ga (15.43)
158) Iso-Speed Control II 16ga (15.61)
163) Head Rip Protect 16ga (11.57)
163) Wilson K-Gut Pro 17ga (15.21)
163) Gamma Live Wire XP 18ga (17.13)
164) Babolat Xcel Power 17ga (10.76)
165) Iso-Speed Platinum 16ga (12.46)
165) Ashaway Dynamite WB 16ga [ZYEX] (13.21)
165) Head FXP Tour 16ga [POLYESTER] (14.93)
168) Gamma Live Wire Professional 17ga (12.37)
168) Dunlop Silk 17L (15.11)
168) Ashaway Dynamite Tough 16ga [ZYEX] (13.51)
169) Iso-Speed Hybrid Speed 1.2 (15.65)
169) Babolat Xcel 17ga (14.69)
169) Tecnifibre TGV 17ga (14.69)
170) Head ETS 17ga (14.00)
170) Dunlop Silk 16ga (16.12)
171) Gamma TNT2 Touch 17ga (16.63)
172) Gamma Asterisk Spin 16ga (12.73)
174) Gamma Live Wire Professional 16ga (13.28)
174) Prince Premier LT 18ga (17.37)
175) Tecnifibre TGV 16ga (14.60)
175) Tecnifibre XR1 17ga (11.60)
175) Gamma Prodigy 17ga (11.16)
175) Prince DNA Helix Soft Pro 16ga (11.90)
175) Prince Premier w/ Softlex 17ga (11.97)
175) Wilson Reaction 17ga (12.00)
175) Iso-Speed Energetic 16ga (18.76)
176) Babolat Xcel 16ga (9.66)
176) Head Syngut PPS 18ga (11.93) [Great for a woman with a flat stroke]
176) Prince Premier w/ Softlex 16ga (11.97)
177) Head Rip Tour 17ga (10.87)
177) Tecnifibre XR3 17ga (10.60)
178) Head Rip Control 17ga (10.25)
178) Head Rip Power 16L (10.91)
178) Gamma Live Wire Professional Spin 16ga (11.47)
178) Gamma Asterisk Tour 16ga (19.95)
178) Prince Syngut Multifilament 17ga (16.08)
179) Gamma Asterisk 16ga (12.15)
180) Gamma Asterisk Tour 17ga (12.53)
180) Iso-Speed Energetic+ 16ga (10.41)
180) Head Perfect Power 16ga (11.84)
180) Head FiberGel Power 17ga (12.28)
180) Wilson Shock Shield 16ga (13.34)
180) Wilson Hollow Core Pro 17ga (16.95)
180) Prince Recoil 16ga (16.25)
180) Prince Premier LT 17ga (16.96)
181) Tecnifiber X-One Biphase 18ga (8.96)
181) Tecnifiber NRG2 18ga (9.86)
181) Wilson Reaction 16ga (11.00)
181) Head Rip Tour 16ga (11.51)
181) Gamma Prodigy 16ga( 11.67)
181) Head FXP Power 17ga (13.37)
182) Head ETS 16 (13.16)
182) Babolat Xcel Premium 17ga (10.01)
182) Wilson K-Gut Pro 16ga (10.62)
182) Gamma ESP 17ga (12.68)
182) Tecnifibre 515 17ga (7.05)
183) Tecnifibre XR3 16ga (9.92)
183) Babolat Xcel Power 16ga (9.64)
183) Wilson K-Gut 17ga (11.59)
183) Alpha Gut 2000 17ga (11.46)
183) Velociti Syn. Gut 17ga (13.21)
184) Head Rip Control 16ga (11.02)
185) Tecnifibre XR1 16ga (12.09)
185) Head Perfect Control 16ga (10.7)
186) Babolat Attraction Power 17ga (9.84)
186) Babolat Syntronic Brio 17ga (10.41)
186) Gamma ESP 16ga (12.64)
186) Gamma Revelation 17ga (13.08)
186) Volkl Power Fiber II 17ga (12.20)
187) Babolat Pro Hurricane 18ga [POLYESTER] (22.29)
187) Babolat Xcel Premium 16ga (10.12)
187) Alpha Gut 2000 16ga (11.23)
187) Gamma Gut II 16ga (12.0)
187) Iso-Speed Energetic 17ga (14.64)
187) Prince Premier LT 16ga (16.72)
188) Yonex Tour Super 880 Ti Soft 16L (9.77)
188) Prince Lightning Power w/Powerfoil 17ga (10.96)
188) Gamma Live Wire 17ga (13.74)
189) Tecnifibre Multifeel 16ga (9.81)
189) Babolat Attraction 16ga (10.03)
189) Head FibreGel Power 16ga (11.62)
189) Volkl Power Fiber II 18ga (10.39)
189) Wilson Hollow Core Pro 16ga (15.63)
189) Dunlop Black Widow 18ga [POLYESTER] (22.77)
190) Tecnifiber NRG2 17ga (9.55)
190) Yonex Tour Super 850 16ga (Gosen) (10.89)
190) Kirschbaum Touch Multifibre 17ga (11.20)
190) Head Syngut PPS 17ga (11.38)
190) Unique Tournafiber Irradiated 17ga (11.62)
190) Gamma Live Wire XP 16ga (12.04)
190) Gamma Live Wire 16ga (12.87)
190) Gamma TNT2 Touch 16ga (14.86)
190) Babolat Addiction 17ga (12.06)
190) Ashaway Syngut 17ga (14.93)
190) Dunlop Black Widow 17ga [POLYESTER] (25.25)
191) Gamma TNT2 RX 17ga (10.96)
191) Wilson K-Gut 16ga (11.98)
191) Gamma Live Wire XP 17ga (12.35)
191) Gamma TNT Fat Core 17ga (13.96)
191) Head Fibergel Spin 16ga (12.08)
192) Tecnifiber X-One Biphase 17ga (10.12)
192) Tecnifiber X-One Biphase 16ga (10.08)
192) Prince Lightning Power w/ Powerfoil 16ga (10.94)
192) Gamma TNT2 Pro+ 17L (12.74)
192) Kirschbaum Touch Multifibre 16ga (14.07)
192) Alpha Ultra Spin 15L (16.69)
192) Dunlop Black Widow 16ga (25.03)
193) Tecnifibre Multifeel 17ga (9.92)
193) Technifibre TRC 17ga (11.2)
193) Wilson NXT 17ga (12.99)
193) Wilson Reflection 16ga (12.70)
194) Babolat FiberTour 16ga (10.45)
194) Head FXP 17ga (10.59)
194) Prince Lightning XX w/ Powerfoil 17ga (11.40)
194) Prince Lightning XX w/Powerfoil 16ga (10.76)
194) Volkl Power Fiber 16ga (11.20)
194) Gamma TNT Fat Core 16ga (12.77)
194) Ashaway Liberty 16ga (12.9)
194) Tecnifibre Synthetic Gut 17ga (13.96)
194) Wilson Superspin 16ga (14.20)
194) Forten Sweet 17ga (12.62)
195) Alpha Gut 2000 15L (11.11)
196) Yonex Tour Super 850 Pro 16ga (11.13)
196) Gamma TNT2 Pro+ 16ga (11.16)
196) Head Syngut PPS 16ga (11.69)
196) Prince Perfection 17ga (12.42)
196) Prince Premier Attack 17ga (13.89)
196) Prince Syn. Gut Multifilament 16ga (13.98)
197) Tecnifibre NRG2 16ga (8.05)
197) Babolat Syntronic Brio 16ga (10.52)
197) Kirschbaum Touch Multifibre 15L (13.87)
197) Forten Spin Gear 17L/15L (Variable Guage) (11.22)
197) Gamma Revelation 16ga (11.88)
197) Wilson Sensation 17ga (11.91)
197) Wilson Sensation Control 16ga (12.77)
198) Wilson NXT 16ga (10.69)
198) Gamma TNT2 Tour 17ga (15.81)
198) Head FibreGel 16ga (11.97)
198) Babolat Addiction 16ga (11.79)
198) Ashaway Synthetic Gut 16ga (12.12)
198) Blue Star Original 15L (13.92)
198) Velocity Syn Gut 16ga (12.88)
199) Wilson NXT OS 16L (10.43)
199) Head Sonic Pro 17ga [POLYESTER] (23.09)
199) Dunlop Max Comfort 17ga (11.78)
199) Gosen OG Sheep Micro 17ga (12.35)
200) Dunlop Max Comfort 16ga (11.07)
201) Head FXP Power 16ga (14.27)
202) Tecnifibre DuraMix HD 17ga [POLYESTER/MULTI] (15.37)
202) RAB/Alpha - Sensor Fibre 16ga (11.02)
202) Gamma Gut III 17ga (10.09)
203) Gamma TNT2 Rx 16ga (9.81)
203) Wilson NXT Tour 17ga (12.46)
203) Gamma Syn. Gut WG 17ga (9.15)
203) Gamma Syn. Gut WG 18ga (9.68)
203) Prince Syn. Gut DF 18ga (11.51)
203) Gosen OG Sheep Micro 16ga (12.96)
203) TOA Leoina 66 15L (14.18)
203) Dunlop Syn. Gut 17ga (16.17)
203) Alpha Syn. Gut MXT 16ga (17.05)
204) Unique Tournafiber Irradiated 16ga (11.44)
204) Gamma Syn. Gut w/ Wearguard 16ga (10.03)
204) Forten Sweet 15L (11.55)
205) Tecnifibre DuraMix HD 16ga (Polyester/Multi) (14.99)
205) Prince Premier Attack 16ga (14.26)
205) Wilson Extreme Syn Gut 16ga (10.30)
206) Wilson NXT Control 16ga (15.81)
206) Alpha Viper MXT 17ga (12.97)
207) Prince Lighting XX 17ga (9.68)
208) Wilson NXT Max 15L (9.88)
209) Wilson NXT Tour 18ga (9.53)
209) Gamma TNT2 17ga (9.85)
209) Gamma TNT2 Tour 16ga (14.49)
209) Gamma Syn Gut 17ga (11.51)
209) Gosen AK Pro 17ga (11.97)
209) Head FXP 16ga (10.83)
209) Prince Topspin+ 16ga (10.06)
209) Prince Topspin DF 15L (11.92)
209) Wilson Sensation 16ga (11.55)
210) Wilson Extreme Syn Gut 17ga(10.39)
210) Gamma TNT2 16ga (10.34)
211) Wilson NXT Max 16ga (9.71)
211) Gamma Marathon DPC 16ga (11.51)
212) Alpha Viper MXT 16ga (12.35)
212) Forten Sweet 16ga (10.78)
212) Gosen AK Pro 16ga (11.64)
212) Prince Syn Gut DF 17ga (10.69)
212) Alpha Viper Synthetic Gut 16ga (12.35)
213) Prince Syn Gut DF 16ga (12.04)
214) Gamma TNT2 18ga (11.05)
214) Prince Syn Gut Original 17ga (10.59)
214) Head Sonic Pro 16ga [POLYESTER] (22.18)
215) Gamma Ruff 16ga (11.33)
217) Gamma Dura Spin w/ Wearguard 16ga (8.95)
217) Prince Synthetic Gut Original 16ga (11.67)
217) Toa Silencer 17ga (13.96)
217) Tecnifibre X-Code 17ga [POLYESTER/MULTI] (17.66)
218) Gamma Synthetic Gut 16ga (9.86)
218) Gamma TNT2 15L (10.69)
219) Wilson NXT Tour 16ga (8.98)
219) Gamma XL 16ga (11.4)
219) Gamma Marathon DPC 15L (10.80)
219) Dunlop Synthetic Gut 17ga (10.04)
219) Iso-Speed Pyramid 16ga [TRIANGULAR POLYESTER] (24.19)
220) Tecnifibre Black Code 18ga [POLYESTER] (18.88)
221) Gamma Synthetic Gut 18ga (10.14)
222) Toa Gold 17ga (12.92)
222) Toa Silencer 16ga (14.04)
222) Tecnifibre Red Code 18ga [POLYESTER] (18.89)
223) Gamma Dura Spin 16ga (8.93)
224) Gamma Synthetic Gut 15L (11.42)
224) Babolat Synthetic Gut 16ga (13.32)
225) Tecnifibre Black Code 17ga [POLYESTER] (18.03)
226) Babolat Pro Hurricane 17ga [POLYESTER] (16.83)
226) Luxilon Alu Power Fluoro 1.23 [POLYESTER] (17.64)
227) Toa Gold 16ga (13.16)
228) Gamma Marathon DPC 17ga (9.42)
228) Tecnifibre X-Code 16ga [POLYESTER/MULTI] (18.85)
232) Luxilon Ace 1.12 [POLYESTER] (17.05)
235) Tecnifibre Red Code 17ga [POLYESTER] (16.27)
235) Luxilon Alu Power Spin 1.27 [POLYESTER] (19.25)
235) Kirschbaum Super Smash 1.20 [POLYESTER] (19.98)
236) Prince Tournament Poly 16ga [POLYESTER] (24.17)
239) Wilson Enduro Pro 17ga [POLYESTER] (15.57)
240) Luxilon Alu Power Rough 1.25 [POLYESTER] (18.98)
240) Luxilon M2 Pro 1.25 [POLYESTER/MULTI] (21.7)
241) Babolat Pro Hurricane 16ga [POLYESTER] (13.61)
241) Luxilon Timo 1.10 [POLYESTER] (16.91)
241) Prince Tournament Poly 17ga [POLYESTER] (24.23)
242) Luxilon Alu Power 1.25 [POLYESTER] (17.13)
242) Tecnifibre Black Code 16ga [POLYESTER] 18.08)
243) Kirschbaum Super Smash 1.225 [POLYESTER] (19.74)
249) Luxilon Big Banger 1.30 [POLYESTER] (17.11)
249) Prince Tour 17ga [POLYESTER] (21.37)
252) Kirschbaum Super Smash 1.325 [POLYESTER] (20.75)
253) Prince Poly Spin 3D 16ga [POLYESTER] (23.39)
254) Luxilon Adrenaline Rough 1.25 [POLYESTER] (19.83)
255) Head UltraTour 17ga [POLYESTER] (19.29)
256) Babolat Pro Hurricane Tour 17ga [POLYESTER] (17.58)
256) Luxilon M2 Plus 1.30 [POLYESTER/MULTI] (19.93)
256) Kirschbaum SuperSmash Spiky 1.20 [POLYESTER] (19.97>
256) Prince Tour 16ga [POLYESTER] (21.57)
256) Kirschbaum Super Smash Spiky 1.25 [POLYESTER] (22.02)
257) Kirschbaum Super Smash Spiky 1.225 ]POLYESTER] (14.58)
257) Kirschbaum Super Smash 1.275 [POLYESTER] (19.53)
257) Kirschbaum Super Smash 1.25 [POLYESTER] (19.53)
258) Tecnifibre Red Code 16ga [POLYESTER] (14.90)
258) Tecnifibre Ruff Code 17ga [POLYESTER] (18.21)
258) Kirschbaum Super Smash Spiky 1.275 [POLYESTER] (20.84)
260) Wilson Enduro Pro 16ga [POLYESTER] (14.33)
260) Babolat Hurricane Feel 17ga [POLYESTER] (16.40)
261) Luxilon Timo 1.17 [POLYESTER] (16.29)
261) Kirschbaum Super Smash Spiky 1.30 [POLYESTER] (18.17)
261) Luxilon Adrenaline 1.25 [POLYESTER] (19.40)
263) Head UltraTour 16L [POLYESTER] (17.97)
263) Tecnifibre Ruff Code 16ga [POLYESTER] (18.26)
263) Babolat RPM Blast 18ga [POLYESTER] (18.31)
263) Kirschbaum Super Smash 1.35 [POLYESTER] (19.36)
266) Luxilon Big Banger Rough 1.30 [POLYESTER] (19.21)
266) Kirschbaum Super Smash 1.30 [POLYESTER] (19.58)
267) Wilson Spin Cycle 16L [POLYESTER] (19.16)
270) Babolat Pro Hurricane Tour 16ga [POLYESTER] (16.61)
270) Prince Poly EXP 17ga [POLYESTER/MULTI] (21.66)
271) Babolat Hurricane Feel 16ga [POLYESTER] (14.62)
272) Luxilon Adrenaline 1.30 [POLYESTER] (19.34)
273) Babolat RPM Blast 17ga [POLYESTER] (17.13)
277) Prince Poly EXP 16ga [POLYESTER/MULTI] (21.48)
280) Babolat RPM Blast 16ga [POLYESTER] (17.37)
282) Babolat RPM Team 16ga [POLYESTER] (15.75)
290) Luxilon Big Banger 5 Star 1.38 [POLYESTER] (17.94)
298) Prince Twisted 16L [POLYESTER] (18.91)
470) Ashaway Composite XT Pro 16ga [VECTRAN] (14.34)
562) Wilson HyperLast Spin (Main 1.21mm) [KEVLAR] (13.72)
574) Head FXP Blend or Rip Blend (Main 17ga) [KEVLAR] (15.73)
627) FORTEN KEVLAR GEAR (Main 15L) [KEVLAR] (11.84)
632) Forten Sweet Kevlar (Main 16L) (11.6)
634) Alpha Tourna Blend (Main 18ga) [KEVLAR] (21.03)
640) Gamma TNT2 Fusion (Main 19ga) [KEVLAR] (17.33)
641) Gamma Infinity (Main 18ga) [KEVLAR] (17.0)
641) Gamma Infinity (Main 17ga) [KEVLAR] (20.57)
671) Ashaway Crossfire 18 (Main 1.08mm) [KEVLAR] (27.21)
697) Gosen Arammix Pro 18 (1.09mm) [KEVLAR] (17.03)
709) Wilson HyperLast (Main 1.41) [KEVLAR] (13.15)
720) Prince ProBlend Spin (Main 17ga) [KEVLAR] (16.39)
736) Gamma Infinty (Main 16ga) [KEVLAR] (17.9)
757) Ashaway Crossfire 17 (Main 1.22mm) [KEVLAR] (28.37)
761) Forten Sweet Kevlar (Main 15L) [KEVLAR] (13.01)
764) Ashway Crossfire II (Main 16ga) [KEVLAR} (26.68)
981) Prince ProBlend (Main 16ga) [KEVLAR] (15.88)

The worst strings for your elbow, are the KEVLAR's. The stiffest of which is PRINCE PRO BLEND 16ga
@ (981). That means that it is over 9 times stiffer than the most elastic Natural Guts at 100+.
Babolat packages their VS gut for Wilson, so the two are actually identical. Since no two sets of Gut
are identical, Gut measurements will always vary somewhat with the individual set that is being tested.
There are Kevlar strings that are somewhat easier on your arm, as low as (444) but still quite stiff.
The next worse variety of strings are the POLYESTERS. Even the worst Polyesters are far better for
your elbow than the best KEVLARS, but that's not saying much! We suggest staying away if possible!

There is an overlap, between the stiffest NYLON strings & the most elastic of the Polyester Strings.
If you must use a Monofilament Polyester , for the sake of durability. we suggest you stick with
either Dunlop Black Widow, Babolat Hurricane Pro 18ga or Head Sonic Pro 17ga, all below 200.
Note that the useful playing life of Monofilament Polyester Strings are usually quite short, as most
of them lose a considerable amount of tension rather quickly, but that's an entirely different issue.
No matter what's printed on the package, or you have read, there are few really Soft Polyesters.
This includes all the Luxilon strings so many players think are "God's Gift to the World". The only
gift you may end up getting from such strings is a lovely case of extremely painful Tennis Elbow.
Yes! it's true that many Pro's do use Monofilament Polyester's, to guard against breakage during
matches, but they restring their racquets each & every day!!! We doubt you want to do the same!

Do not be fooled by the claims made on string packages by manufactures, as to their providing
Tennis Elbow relief. They can say whatever they want, true or not. There is no Gov. agency that
oversees false claims in such situations. Sure, you can sue for false advertising, but only if you
demonstrate you have "damages" in a court of law, so beware of false claims on string packages.

Now that we have soft & elastic string, we need racquets less efficient at transmitting shock.
There are many racquets, incorporating mechanical (or active) systems, reducing shock or vibration levels.
One needs to differentiate between those that reduce SHOCK and those that only reduce VIBRATION.
Listed in alphabetical order; Dunlop's "ISIS Grip", Head's "Suspension Grip System, & CHIP SYSTEM.
Volkl's "Dual Absorber Grip or Sensor Handle", Prince's "Cushion Grip System, Air+ Comfort Handle,

or Air Handle", and Wilson's innovative "Triad Technology", to name just the most popular of them.
Gosen's "Sorbothane Grip System", which is ONLY available from Tennis Menace can be installed on
any racquet. This active Shock & Vibration reducing product is quite effective on it's own, however
adding it to some of the racquets equipped with the technologies above, can provide an even greater
amount of protection to your elbow. The key is to seperate the technologies that truly reduce SHOCK
from those that only reduce vibration (Aftershock).

There are also racquets made with absorbent Thermo-Plastic materials, not the Epoxy Resins usually
used by racquets to hold their graphite fibers together. Thermo Plastic's are poor shock transmitters.
In other words, they do not transmit shock energy as well as most racquets, made with Epoxy, do.
These include all of the Prince Vortex's, the U.K. made Dunlop Max 200G & 300i, 400i, 500i, 800i, and
the Donnay Revolutive Blue Ace & the Yamaha FX TP. None are current models, we simply still have them.
Two of the models in the Prince Vortex racquet line employ Prince's Cushion Grip System as well!
These, the Prince Vortex Original & the Prince Vortex S.B. are simply the best at elbow protection.
Adding a Gosen Sorbothane Grip System to a Vortex or these other racquet only improves protection.

It should be clearly understood, that any specific racquet, becomes a better energy absorber as
it's weight is increased. This is not to say that any heavier racquet is better than any lighter one.
You can only compare a given racquet to itself, in regards to it's weight, with any real statistical
accuracy, but in general a heavier racquet should be considered a better energy absorber overall.

Pro Kennex Kinetic racquets, which are by the way, fine tennis racquets, have been touted as being
great for Tennis Elbow. Studies at M.I.T. have found that Kinetic System racquets have the ability
to reduce the amount of Shock transmitted by 20% & Vibration (Aftershock) by 43%, compared
to a Standard Tennis Racquet. Using one, strung with an Elastic String, a Gosen Sorbothane Grip,
along with Dunlop Abzorber Balls & possibly a Strap elbow brace, my be just the ticket, for you.
However keep in mind that The above mentioned Thermo Plastic racquets are much more effective.

Often a choice must be made, to forgo using that racquet that you play so well with, simply for the
sake of protecting your arm against a chronic Tennis Elbow Injury that might develop over time!
What good is playing better in the short term if you may soon have to give up playing entirely?

Give us a call when you have enough time to discuss your own situation with us. We are happy
to spend as much time as neccessary, to help determine a proper course to help you find relief.

NEWS FLASH! TENNIS MENACE HAS DEVELOPED A NEW ANTI-TENNIS ELBOW PRODUCT
"GUMMI-GROMMETS" are the newest addition to our arsenal, used to help fight "TENNIS ELBOW"
This product is only available for racquets that we are selling, or that you have sent in for re-stringing.
Each racquet must be evaluated to determine it's compatibility with this new technology. Ask for details.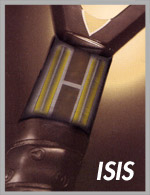 DUNLOP'S "ISIS HANDLE SYSTEM"
ISOLATES GRIP & RACQUET HEAD,WITH IT'S SYSTEM OF GRAPHITE RODS
& RUBBER COUPLER, REDUCES SHOCK WITHOUT INCREASING RACQUET WEIGHT.
Found in many of the Original Revelation Series of Dunlop Racquets.



HEAD' "SUSPENSION GRIP SYSTEM"
REDUCES SHOCK TRANSFER, WITH SOFT RUBBER ISOLATOR CUSHIONS.
Found in Head's Discovery/Trisys 150, Prestige Tour, Competition SG.



While not pictured, HEADS CHIP SYSTEM
utilizes an COMPUTER CHIP to Cancel Afershock (vibration).
Found in Head's iS18, iX16 & the PROTECTOR series of racquets.



PRINCE'S "CUSHION GRIP HANDLE SYSTEM"
REDUCES SHOCK TRANSFER, WITH A SOFT RUBBER PALLET UNDER GRIP.
Prince's 1st (& still the best) Anti-Shock Handle System, found in the:
Vortex & Vortex SB, CTS Series, Thunder Stick/Bolt Morph Beam's,
The T.T. Turbo Shark, Precision: 720/770's, Responses & Spectrums.



PRINCE MORE'S "AIR+ COMFORT HANDLE"
PROVIDES EFFECTIVE CUSHIONING, DUE TO 4 FLEXIBLE SECTIONS.
Resulting in less shock getting through to your hand through the grip.



PRINCE'S ADVANCED "AIR HANDLE SYSTEM"
PROVIDES EFFECTIVE CUSHIONING, DUE TO 2 FLEXIBLE SECTIONS.
Resulting in reduced shock getting through to your hand through the grip.



VOLKL'S "DUAL DAMPENING GRIP"
REDUCES SHOCK TRANSFER,WITH A SOFT RUBBER SUB-PALLET.
Volkl's first anti-shock handle system, used in the V-1 CLASSIC.



VOLKL'S "SENSOR HANDLE SYSTEM"
REDUCES SHOCK TRANSFER,WITH GEL CUSHION & EVA PALLET.
Volkl's newest active anti-shock system, used in numerous models.



WILSON'S "TRIAD RACQUET TECHNOLOGY"
SEPERATES GRIP & RACQUET HEAD,WITH ISO-ZORB CUSHIONING.
Maintains racquet Power & Control along with incredible comfort levels.
The racquet HEAD is a totally seperate structure from the racquet GRIP.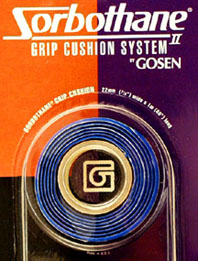 GOSEN'S "SORBOTHANE GRIP SYSTEM GRIP"
REDUCES SHOCK TRANSFER,VIA AN ADD ON TO ANY RACQUET.
The most effective (add on) energy absorbing racquet grip system available,
10X more effective against Shock Transmission then Wilson's Shock Shield Grip.
This Viscoelestic Rubber Undergrip, is an extremely effective energy absorber.
Besides absorbing energy traveling through it, this product adds additional mass,
which as we previously explained, makes any racquet more energy absorbent.
You will find the Gosen Sorbothane Grip listed on our Grip page.


An often overlooked factor contributing to the causes of Tennis Elbow is grip size & surface condition.
Normally, the larger the grip, the better, unless it becomes uncomfortable for the player to hold onto it.
It is also important that the grip's surface provides adequate adhesion properties with the player's hand.
A player with a basically dry palm, will benefit from a tacky grip surface, while someone with a sweaty
hand will benefit from a grip that provides greater water absorption and possibly a more rough surface.
While there are a multitude of tacky grip products, those requiring a more sweat resistant grip will find
only a few products that will adequately eliminate slippage problems associated with excess moisture.
Of greatest importance is that the player does not have to use excessive force, trying to hold on to their
grip. Doing so pre-tenses the arm muscles, which will contribute to shock energy traveling up the arm.
What you want, is a relaxed, comfortable grip on the racquet, not a so called "death grip"

Contrary to popular belief, so called Vibration or Shock Absorbers, have little influence pertaining
to the development of Tennis Elbow. That does not mean, that an Absorber equipped racquet can't
be more comfortable to play with & may give some pain relief to someone with Tendonitis. They
simply do not prevent elbow damage from ocuring in the first place. They will have some effect
due to the increase in the total racquet mass, so the heavier they are, the more effective.

Now for a discussion on Braces, worn on the arm during play, as they pertain to Tennis Elbow.
Braces that utilize pressure, to relieve the pain of Tennis Elbow, may be somewhat effective.
It must however be understood, that they are doing only that, relieving the pain while worn.
They do nothing to prevent the elbow damage, nor do they contribute to any healing going on.
We have found only one arm worn device directly contributing to the reduction of shock energy
reaching the elbow. It does not provide pressure generated pain relief, as do the other devices
previously mentioned. Instead, the "Strap" works by interupting the shock waves as they
are traveling up the arm towards the elbow. This is accomplished by using a Viscous Gel System.
The key to relief from Tennis Elbow pain, is allowing the tendon to heal, without re-injuring it.
All the methods and devices we have mentioned have one end result in mind, to reduce the shock
energy that is able to reach the elbow and thus causing continuing damage to the tendon tissue.
The Manufacture of the Strap has gone out of business & we are currently sold out. We are hoping
to source some additional Straps in the future. For now, we have some remaining Gel Inserts that
can be used with an Ace Bandage to achieve the same results. Contact us for further information.




This just in! Ask about three new products designed to help those suffering from Tennis Elbow.
Wilson's Shock Shield String, available in 16 gauge. is a Gel Filled version of Wilson HollowCore.
The Shock Shield string has an Elasticity rating of #180 is soft, but there are many softer strings.
Wilson's Shock Shield replacement grip utilizes a thin layer of the same material that is used to
make our Sorbothane Grip System. While not as effective, since the thickness of the layer utilized
is like a sheet of paper, compared to the "15 times thicker Sorbothane Grip System's", it is a user
installable which is a plus! Wilson's Shock Shield Vibration Absorber is a more effective version of
the Gamma Shock Buster Vibration Absorber. All these products utilize what Wilson calls Iso-Zorb Gel,
the same material used in Triad racquets. I mention these simply because they exist. I am not going to recommend them, as there are better alternatives. Example, the Gamma Hi Tech Gel Contour Replacement Grip.



When you are absolutely, positively ready for a Tennis Elbow Cure! CALL ME! (678) 787-1606





"TENNIS MENACE - NOT A WAREHOUSE"
2305 BRICK MILL COURT / DULUTH, GA 30096 U.S.A.
INTERNET PRICES NOT VALID IN RETAIL STORE
OPEN 365 DAYS - 8 AM-12 Midnight Eastern / PHONE (678) 787-1606
USE OUR SECURE ONLINE ORDER FORM (Data Encrypted)
E-MAIL US: "sales@tennismenace.com"
NO MINIMUM ORDER!

U.S. SHIPPING VIA UPS or PRIORITY MAIL (SIGNATURE REQUIRED UPON DELIVERY)
WE SHIP "ONLY" TO ADDRESSES VERIFIED BY CREDIT CARD ISSUERS

PAYMENTS IN THE UNITED STATES by:
VISA, MASTER, AMEX, DISC., U.S. POSTAL M.O., PAYPAL (Restrictions apply)

INTERNATIONAL PAYMENTS ACCEPTED:
AMEX, WESTERN UNION, BANK WIRE, PAYPAL (Restrictions Apply)


INTERNATIONAL SHIPPING VIA:
UPS (IF PAID BY AMERICAN EXPRESS CARD)
INSURED AIR-MAIL (IF PAID BY OTHER METHODS)

BUYER IS RESPONSIBLE FOR ALL DUTY, TAX, VAT, or BROKERAGE FEES
IF SHIPMENT IS REFUSED, THESE ARE DEDUCTED FROM APPLICABLE REFUND.
ALSO DEDUCTED, BEFORE ANY REFUND WOULD BE SHIPPING BOTH WAYS
---
Click here to return to TOP OF PAGE
HOME PAGE / RACQUETS / STRINGS / GROMMETS / ACCESSORIES
INFORMATION / SECURE ONLINE ORDER FORM / BALL & STRINGING MACHINES
GRIPS & OVERGRIP / EYEWEAR / CLOTHING & FOOTWEAR / GIFTS / BAGS
BADMINTON / SQUASH / TABLE OF CONTENTS / F.A.Q's



---