"TENNIS MENACE - NOT A WAREHOUSE"
HOME / TABLE OF CONTENTS / RACQUETS / STRINGS / GROMMETS
Everything you've always wanted to know about Tennis String, (*but were afraid to ask)
SECURE ONLINE ORDER FORM / BALL & STRINGING MACHINES
GRIPS & OVERGRIP / EYEWEAR / CLOTHING & FOOTWEAR
ACCESSORIES / GIFTS / BAGS / FREQUENTLY ASKED QUESTIONS
BADMINTON / SQUASH / TENNIS ELBOW RELIEF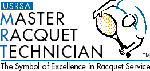 Not a Warehouse, Depot or a Superstore. Tennis Menace however, has a greater selection
of Racquets, Strings, Grips, Grommets & Accessories, than any Warehouse or Superstore.
Who are we? You'll find us on ebay, ID "racquets-r-us" with an impecable feedback score.
Tennis Menace provides personal service second to none. Whether on the phone or via an
e-mail, your contact with Tennis Menace is always direct to the owner, Howard Matthews.
Only Tennis Menace is open (365 Days a Year) from 8:00 AM until Midnight, Eastern Time!
A 25 year USRSA Master Racquet Technician, with over 40 years of stringing experience.
I string & grip all the racquets. Each & every racquet is treated with the highest level
of care possible! No shortcuts are ever taken, period!, insuring your racquet & string
play to their fullest potential. I alone deal with all customers. In this way, you are
not being taken care of by an order taker or a customer service representative, reading
from a script, who's more than likely clueless, but the owner. It's my reputation which
is on the line every time I converse with you, or take on the responsibility of filling
your order. It means that I do not rush the stringing your racquet. I string each a every
one with care, like they were my own, taking the time to ensure that each one will play
to it's maximum potential, & that the strings won't loosen or break prematurely. I do it
to warrant your repeat business & your recommending Tennis Menace to your friends, &
relatives. Employees look out only for themselves, so how much care can one imagine they
would ever put into how they string your racquet? They are usually paid by the racquet,
so the faster, & thus more poorly they string, the more money they will make. That's one
huge incentive for them, but one that works against you!


---

With only a relatively small number of highly experienced and competent Racquets Stringers
available worldwide, there are limited choices, as to where to get one's racquets strung,
if expecting them to play to their fullest potential! Just as possession of "Hammer & Nails"
has never insured that someone is really an experienced carpenter, possesion or access to a
Stringing Machine & Strings, doesn't insure that someone knows how to string properly. How
can players expect their racquets will play to their maximum potential, with no damage done
to the racquets & with strings that will last & play with consistency over a long period of time,
if strung by incompetents? It's thus in your best interest, if you insist your racquets are strung
only by someone who's proven themselves as highly competent over dacades. Tennis shops
often hire tennis groupies, or teenagers, to string, paying them on a per-racquet basis, rather
than a salary. This per-racquet system encourages racquets being strung as quickly as possible.
The faster racquets get strung, the more money stringers makes & the lower the ultimate quality.
Would any rational Tennis Player want their racquet stringing done under such conditions? We
don't believe so. Even if a store does have a competent stringer, is he the owner, with an interest
in making sure all of the racquets get strung properly and to the highest possible performance
level possible? When an owner does all of the stringing, he's putting his reputation on the line.
If he messes up, he risks losing customers, & word getting out about that customers displeasure.
Thus, he logically should always do the best possible job as it's in his best interest to do so, for
his own financial stability.

Even if you have your racquet strung by someone who is trying to do the best job they can,
that still doesn't assure you're getting the best possible string job. Consider that just as Doctors
becomes more seasoned with time on the job, so does a racquet stringer. Any artisan learns by
experience over time, becoming more & more adept at his craft, as the years go by. Fnding out
how long a prospective stringer has been stringing, may be of significant importance. Just ask.

Prior to stringing any racquet, whether brand new, or one that's been used, it's imperative that
the racquet be carefully checked, to make sure that it does not have hidden issues that interfere
with proper stringing. Although rare, sometimes racquets have manufacturing defects that could
easily go overlooked to the inexperienced eye. The possibility of issues increases the more times
a racquet has been strung, how much use it has been subjected to, and the conditions it was stored
in while not in use. Structural defects are not always easily visible, or visible at all. Thus there is all
the more need to have someone with an engineering background doing the inspection. Stringing
is both a science and an art, & removing strings from a racquet must be done in a particular way,
or one risks racquet damage. After the strings have been removed, the next step is a closeup
examination of the grommets under a high power loupe, to make sure that the grommets will do the
job they were designed for, protecting the strings from any sharp edges of each of the drilled holes
& protecting the racquet from being damaged by the tensioned strings, which can cut like a knife.
Inspection via the naked eye is not accurate, but that's how it's normally done (if at all) by most!
Then grommets can be repaired or replaced entirely, depending upon the level of wear, & once
done, the racquet can then safely be strung. Many stringers will insist that there's only one right
way to string a specific racquet. That the manufacturers provide their own designated methods,
that must be followed & that's how it must be done. If you will settle for the "Norm" that's a no
brainer, but if you desire your racquet to perform on the cutting edge level, there are advanced
methods that can be used to accomplish that goal.


---

OBVIOUSLY FOR OUR LOCAL CUSTOMERS ONLY!................
PROFESSIONAL RACQUET STRINGING AT YOUR CONVENIENCE.
ON LOCATION, AT YOUR HOME, OFFICE, EVEN AT THE COURTS!

Our newest service is our Racquet M.D. Mobile Pro Shop Vehicle. A climate controlled RV
containing our full selection of over 500 varieties of tennis string & grips, along with all of
our State of the Art Equipment, including our Babolat Racquet Diagnostic Center (RDC),
an extreme piece of technology that one rarely finds in most run of the mill tennis shops.
Eliminating most of the hassle of getting your racquet stringing done. Now it's no longer
necessary to travel twice, to both drop off & again to pick up your racquets. In fact, you
may not have to travel at all, as we can bring the entire Pro Shop to you. Whether your
residence, office, or the courts, Racquet M.D. can string racquets While-U-Wait, usually
in under an hour. Add to that our Almost Never Closed Policy & getting service for your
racquets has never been so incredibly easy or such a time saving endeavour. Obviously
you may also come to our Duluth location if you prefer! Please note that additional fee's
will apply for mobile service on location. Internet prices not valid for on site purchases!


---

1) STRING PERFORMANCE, COMFORT & DURABILITY
With hundreds of strings marketed, with claims such as "Best Playing", "Longest Lasting", "More Spin",
"Tennis Elbow Relief", Who do you trust? Do you trust what is printed on the string package? Do you
ask the Stringer? Neither may produce positive results. Manufactures are free to make any claims they
want, with almost total impunity. Most stringers have no education in Materials Science, Chemistry or
Physics, the subjects where relevent knowledge on such issues would have been available. Actually,
many stringers are not college graduates, with little if any scientific competence in these subject areas.

Howard Matthews, owner & 25 year "Master Racquet Technician" has a B.S. from the City Univ. of N.Y.
and prior to that, attended the prestigious Brooklyn Technical High School. The Science's were the core
study at both of these institutions. Only someone with such knowledge is capable of sorting through all
the hype and false claims, providing an accurate & unbiased explanation of how strings differ in their
performance, comfort, durability & longevity, in a real world scenario! Many players are constantly
asking, "Why does my racquet feel different today, than it did when I last played with it a week ago?"
The answer has to do with "Plasticity". Tennis strings have both Elasticity & Plasticity. Elasticity is the
ability of any material to stretch, like a rubber band, but come back to it's original length, without it's
becoming deformed or (Permanently Stretching). Plasticity is the ability of any material to elongate if
it is subjected to force, without breaking into pieces. Silly Putty is a classic example. If you exceed
a material's plastic limit, or in other words, when you exceed it's tensile strength, it breaks apart.
The speed of the deformation does play a role in the ability of a material to exhibit plasticity. The
faster it is stretched, the quicker it will break. How do these two material characteristics apply to
tennis string? An ideal tennis string will be extremely elastic. Thus it would be capable of absorbing
all the energy present at ball impact & releasing most of said energy back into the ball. Unfortunately
materials that exhibit substantial elasticity also exhibit significant plasticity. With each ball impact the
static length of all tennis strings becomes somewhat longer. It is the definition of "somewhat" that
creates all the problems with tennis strings. Thus the (ratio of elasticity to plasticity) becomes an all
important figure & it will differ, based upon the material a string is made of, as well as the specific
manufacturing method used to make the string. This is why definative knowledge of a strings elasticity
& plasticity is of utmost importance in the determination of which string is best for a specific player.

Individuals will have differing requirements when it comes to both the type of string they use, as well
as the tensions their racquets should be strung to. Taking string plasticity & elasticity into account,
all strings will behave differently from one another, in terms or their power, comfort, & control, &
these factors are also dynamically changing, both due to time, as well as due to string usage. The
problem is that players have become used to simply asking that their racquets be strung to a specific
tension, while any tension requested will start to change within seconds of the racquet being removed
from the stringing machine, as well as continue the change as time passes. The speed of these changes
are not however linear, slowing down with time. Other variables include usage time as well as racquet
weight & speed, as each ball/string impact will further contribute to permanent string elongation. In
simpler language, the tension any specific string needs to be strung to, will vary because of differences
inherent in the chosen string. It thus will become important for the stringer to have specific knowledge
of differences between all possible string choices. The problem is that the vast majority of stringers do
not have the data or lack the knowledge to utilize it. It is a common belief that having a racquet strung
with your specific string of choice, at the requested tension, will always result in a racquet that plays
close to what you are used to. Nothing could be further from the truth. Consider the variable of who does
the stringing, add the type of machine, calibration & cleanliness (or accuracy) of the machine, speed the
strings are installed at, as well as the temperature at the time of installation. With so many variables,
it becomes obvious why the results vary so much from stringing to stringing. Each variable influences
the final tension the string is under upon leaving the machine, as well as how quickly that tension will
begin it's relentless degradation. Now you begin to understand why where you get your racquet strung,
& who does the stringing is so important. Even if you are not local to Tennis Menace, or aren't considering
the purchase of a new racquet at this time, you can still take advantage of my expertise. Racquets can be
sent to Tennis Menace via UPS or Mail, & they will be serviced & sent back to you the next day. How long
their roundtrip takes, is simply dependent upon how you ship them & method of return shipping requested.


---

SEND TENNIS MENACE YOUR RACQUET FOR STRINGING.
Simply add $24.95 to the price of any of the over 500 strings listed on the site's extensive String Page.
We also offer higher tiers of stringing service for our extra demanding players. Ask for additional info.
We will install any of the grips listed on our site's Grip Page, for an additional $1.00 over the grip's price.
Our exclusive the Tennis Menace Gummi Grips or Sorbothane Grips, include the installation in their prices.
If necessary, we can replace any worn Grommets/Bumper Guard Systems prior to stringing your racquets.


---

2)"NOT SO" EXPERIMENTAL RADICAL STRINGING METHODS
As we discussed previously, there are often a number of methods of stringing a racquet, some approved
by racquet manufacturers while others are not. We have developed a series extremely radical stringing
methods that go far beyond the commonly known ones. These propriatory methods dramaticaly change
the way a racquet plays, adding or reducing power, reducing the amount of shock generated, or changing
the length of time a specific string may stay in one piece, or hold tension. One of our competitors offers
a method called "Proportional Stringing". This method of stringing a frame's individual strings at varying
tensions, according to their lengths has 1 major flaw that seems to have been overlooked. Any 2 adjacent
strings which are at different tensions, will soon equalize to an average tension, somewhere between the
original differing tensions. Thus the desired effects of proportional stringing, an equally deflecting string
bed with a larger sweet spot are short lived. Our propriatary stringing methods do not use varied string
tensions, but produce the same final results, with no deterioration over time! Additionally Tennis Menace
is able to assure you that our stringings will significantly outlast the competitions, both in DURABILITY
as well as in LONGEVITY due to a Newly Acquired Apparatus that greatly reduces the damage normally
done to all strings during the normal act of stringing. Yes it takes longer for us to achieve these superior
results, but we have learned that a Rushed String Job consistantly results in a Poor String Job. Lastly,
ask about a new product we have developed called STRING JUICE, an undetectable String Lubricant
that add SPIN to your strings, & also increases their durability compared to the same string left untreated.


---

3) WEIGHT & BALANCE MODIFICATION / RACQUET MATCHING
Tennis Menace is a proud owner of the Babolat Racquet Diagnostic Center (RDC), which allows us to
take extremely accurate measurements of a racquet spec's, such as weight, swing weight, balance,
frame & stringbed stiffness. This wonderful piece of equipment helps us to make delicate adjustments
to racquets that are not performing correctly, or that may need to be modified to make them play like
another racquet of the same type that for some reason plays differently! It also aids in making direct
comparisons between different racquets, which may help in a customers final racquet choice.


---

4) GRIP: SIZE, SHAPE, LENGTH, & MATERIAL, MODIFICATIONS
All racquet grip sizes can be increased. Some, but not all can be made smaller. Grip shape & length
can also be changed. Special shock absorbing materials can be installed under grips that can reduce
the shock that gets through to the arm as well as reducing fatigue from extended play times. Dealing
with sweaty hands, which lead to slippage problems, can be solved by grip material choice. We offer
the largest selection of grips anywhere, including a huge selection of Leather grips, such as Fairway.


---

5) TENNIS ELBOW REDUCTION & ELIMINATION SERVICES
See our page on TENNIS ELBOW, where you'll find out about finally getting relief.


---

6) RACQUET LOCATOR. IF WE CAN'T FIND IT, NO ONE CAN!
Rossignol, Yamaha, Kneissl, Donnay, Puma, or an old or current model from today's makers
We either have it in stock or can probably get it from one of our partners around the world.


---
Our SECURE ONLINE ORDER FORM & our FAQ page list our specific policies pertaining
to placing orders with us. We do not provide the cost of shipping & handling on our site.
Each order requires us to determine these costs based upon the items being shipped, the
location we are shipping to & the method of shipping required to get it to you when you
want it there. Methods of payment accepted; inside and outside the U.S. are listed on the
bottom of every product page. Also see our F.A.Q. Frequently Asked Questions page.


---

TENNIS MENACE has the worlds largest selection of Tennis Racquets. We specialize
in racquets from the past, & have an extensive selection of both new & used racquets, many
of which you thought you would never again be able to find. (See our Racquets Page)


---

TENNIS MENACE stocks the worlds largest selection of racquets strings. We have
every available variety, in all the gauges & colors, including many discontinued varieties
that long ago become impossible to find anywhere else. (See our String Page)


---

BORIS BECKER SUPER STRING by VOLLMER is a German string similar
to Technifibre in construction (1,000+ fibres). This 16ga performs like nothing else you've
ever felt. Nothing short of gut-like in its playing characteristics, it is also not to be outdone
in its relief for those suffering from TENNIS ELBOW.


---

TENNIS MENACE has the WORLD'S LARGEST SUPPLY of TENNIS GROMMETS.
Even those Impossible to Find ones, you've been told are not available anywhere!
Tennis Menace is the only remaining distributor of "Donnay SA of Belgium" Grommets.


---

TENNIS MENACE - WORLD'S LARGEST SELECTION of LEATHER TENNIS GRIPS.
FAIRWAY/BALMFORTH, NUEMANN, PRINCE, BABOLAT, HEAD, WILSON, GAMMA, VOLKL
NOTHING FEELS, PLAYS OR LASTS QUITE LIKE A GENUINE FAIRWAY CALFSKIN GRIP!
No other retailer can come close to our extensive "Old School" Leather Grip selection!


---

The GOSEN Sorbothane Grip System, is sold only by Tennis Menace.
Sorbothane can best be described as what a Dr. Scholl's Gel insole is made of, a Viscoelastic Polymer.
The Sorbothane Grip System has no competition when it comes to reducing shock at the grip, before it
enters the arm, reducing Tennis Elbow Injuries. Find it on our Grips Page.

There are fake Sorbothane Grip System products being sold on ebay, easily spotted as they don't
look like a Tennis Grip and are Black as shown in the ebay pictures. The REAL Sorbothane Grip
System utilizes a Blue Undergrip, which is wrapped onto a racquet's grip, and then covered with an
Overgrip. Like other replacement grips, it has an ADHESIVE backing with a peel off wax paper strip.
Don't be fooled into buying an unbranded product masquerading as Sorbothane. If it does not look
like this, it's a fake.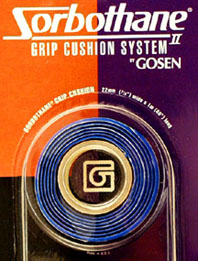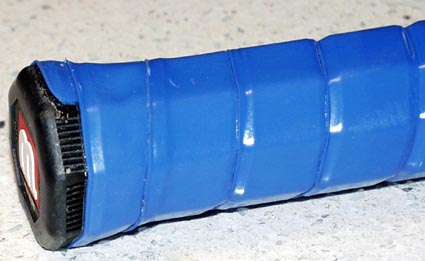 ---

The GUMMI GRIP is a revolutionary over grip product unlike anything else you've
ever experienced. Made of surgical grade silicone rubber, GUMMI GRIP has the most
tacki surface of any grip available. All other grip products wear out, sooner or later. They
lose their tack, rip and tear, or just get dirty to the point of being useless. These problems
are all virtually eliminated with the GUMMI GRIP.

Cleaning the grip with ISOPROPYL (RUBBING ALCOHOL) 90% or 99% will maintain its
tackiness, while it will outlast any other overgrip by 50X or more. The added feature of
being able to move GUMMI GRIP from one racquet to another, over and over
further separates this amazing product from the rest of the pack of available overgrips.

GUMMI GRIP is non absorbent. It cannot become saturated with moisture. Thus the
problem of a soaking wet grip will not occur. Individuals with extremely sweaty palms will
need to wipe their hand off or use a sport specific "hand anti-perspirant". (see below)


---

DRY GRIP is an answer to a prayer. Quite simply this product solves the problem of wet
hands and the resulting slippery grip problems. DRY GRIP is a blend of an anti-perspirant,
water repellant and tackifier all in one easy to apply cream. It leaves no residue on your hands,
grip, or clothing. TRY SOME TODAY! Find it on our Accessories Page


---

STRING JUICE enhances the amount of spin you are able to produce with almost any string,
as well as improving the durability, compared to the same string not treated with String Juice. It's
most effective on smooth surfaced strings, Poly's, Polypropylene's, and Ashaway's Monogut ZX's,
although it will also work quite well on all traditional Synthetic Guts & Nylon's, but it has less of an
effect on rough textured strings and can't be used with Natural Guts. TRY SOME TODAY!


---

TENNIS MENACE specializes in relieving your TENNIS ELBOW ISSUES once and for all.
See our dedicated TENNIS ELBOW page for all the details on how we accomplish this miracle.


---

TENNIS MENACE offers a full line of battery operated, rechargeable Ball Machines,
Stringing Machines from Babolat, Prince (Ektelon), Tecnifibre (Major), Gamma & Alpha.
New & used machines are available, & the selection is constantly changing.


---

TENNIS MENACE is buying! In addition to classic frames from the past, we will also
buy any over supply of racquets, string, grips or grommets you may have on hand.


---

We have made every attempt in our online catalog to offer competitive pricing. Understand
that it is not possible to have the lowest price on every single item, all the time. We are in
business to turn a profit. Our competitors may offer items at prices which may reflect their
need for cash or their attempts to unload items they no longer desire to stock. Often they do
not have a full inventory of such items and are cleaning house, getting rid of the "Last One".
We go out of our way to make sure we have a wider selection of products than you'll find at any
of our competitors, but we can't spend every waking hour making sure we are matching every price
that they may be offering. If you find a lower price, or even if you just want to see if we will
do better than what we have listed on the site, you are welcomed to inquire if we can do better?



"TENNIS MENACE - NOT A WAREHOUSE"
2305 BRICK MILL COURT / DULUTH, GA 30096 U.S.A.
INTERNET PRICES NOT VALID IN RETAIL STORE
OPEN 365 DAYS - 8 AM-12 Midnight Eastern / Ph.Txt (678) 787-1606
E-MAIL US: tenmen@mindspring.com
USE OUR SECURE ONLINE ORDER FORM (Data Encrypted)
NO MINIMUM ORDER!
U.S. SHIPPING VIA UPS or PRIORITY MAIL (SIGNATURE REQUIRED UPON DELIVERY)
WE SHIP "ONLY" TO ADDRESSES VERIFIED BY CREDIT CARD ISSUERS
PAYMENTS IN THE UNITED STATES by:
VISA, MASTER, AMEX, DISC., U.S. POSTAL M.O., PAYPAL (Restrictions apply)
INTERNATIONAL PAYMENTS ACCEPTED:
AMEX, WESTERN UNION, BANK WIRE, PAYPAL (Restrictions Apply)

INTERNATIONAL SHIPPING VIA:
UPS (IF PAID BY AMERICAN EXPRESS CARD)
INSURED AIR-MAIL (IF PAID BY OTHER METHODS)
BUYER IS RESPONSIBLE FOR ALL DUTY, TAX, VAT, or BROKERAGE FEES
IF SHIPMENT IS REFUSED, THESE ARE DEDUCTED FROM APPLICABLE REFUND.
ALSO DEDUCTED, BEFORE ANY REFUND WOULD BE SHIPPING BOTH WAYS
---
Click here to return to TOP OF PAGE
HOME / TABLE OF CONTENTS / RACQUETS / STRINGS / GROMMETS
Everything you've always wanted to know about Tennis String, (*but were afraid to ask)
SECURE ONLINE ORDER FORM / BALL & STRINGING MACHINES
GRIPS & OVERGRIP / EYEWEAR / CLOTHING & FOOTWEAR
ACCESSORIES / GIFTS / BAGS / FREQUENTLY ASKED QUESTIONS
BADMINTON / SQUASH / TENNIS ELBOW RELIEF